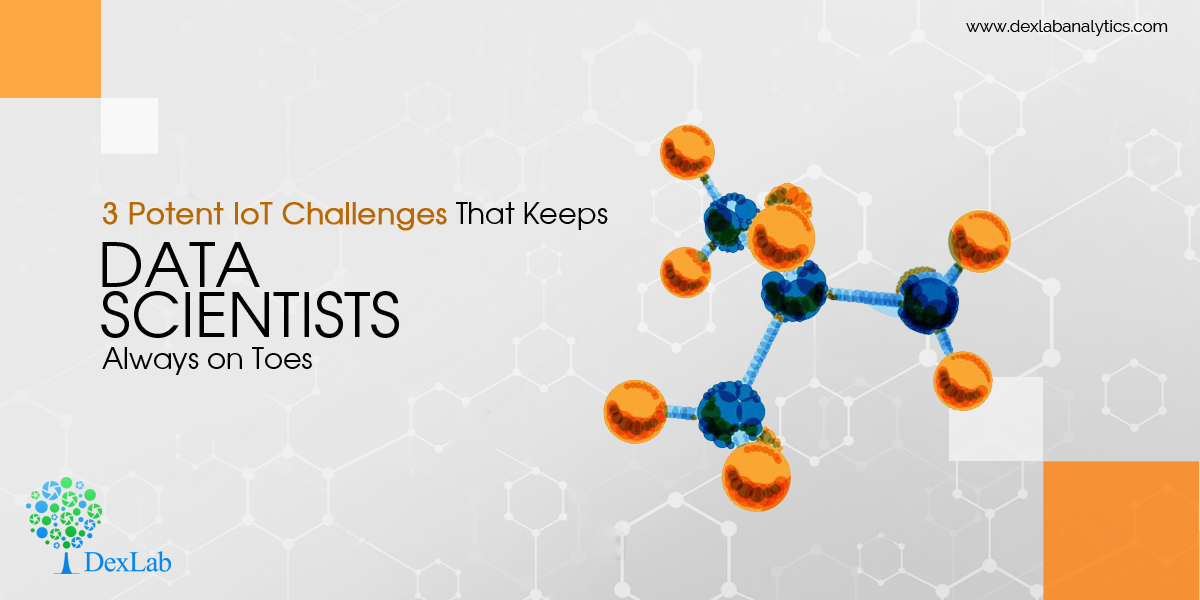 The job responsibility of data scientists is no mean feat. They stay under a lot of pressure. A wide number of stumbling blocks are laid in front of them, which makes it really difficult for them to secure the long-shot business goals and objectives.
As prevention is better than cure – being aware of the challenges always help data scientists plot the shortest and smartest route to success, and we can't agree more. Brace yourselves! Below, we've enumerated some of the challenges data scientists face while getting started with an IoT project:

Inferior Data Quality
Messy data is life and soul of data scientists. Irrespective of business scale, the job of every data scientist is to organize data in the correct manner. But, however organizing them may require adequate time as well as hard work.
A fundamental rule – avoid manual data, wherever possible. Intelligent data compilation is the final key to high quality data, which is a prerequisite for favorable company operation. It includes crisp communication, regular anomaly detection, logic determination and well-defined industry standards. Another way to tame your data can be through application integration tools – they are a fabulous way to automate data entry and lessen escalation of typographical errors, individual eccentricities, staggering spellings and more from the data.
Once data is in the right format and quality, data scientists can start slicing off the data they don't need any more, which takes us to the next step.
For Data Science Certification, drop by DexLab Analytics.
Shedding Out Excessive Data
Though big data is found in abundance, too much of data can also pose a substantial challenge. This is why employing superior data selection techniques and minimizing features are supported, they help eliminate unwanted chaos cutting through what matters the most.
What happens is that when data becomes excessively large, we often end up developing high-end predictive models that fails to deliver productive results. But, on the other hand, if you track the events, giving importance to validation and testing routines, the outcomes will spell perfection. And that's what we are looking forward to.
Predictive Analytics is the Key
IoT has made predictive analytics a daunting reality. Owing to its critical business significance, predictive analytics is quickly accelerating along the priority ladder of IoT stakeholders. However, take a note, this breed of analytics may not be fruitful in every instance. It's imperative to begin your analytics endeavor by clearly defining your module's objective, followed by needed research and valuation.
Next, you need to sync in with subject matter pundits to ascertain which predictions will lead you closer to fulfilling the business objectives. Following to this, you have to be sure that you have all the data required to make prediction. In other cases, you can re-set goals, anytime.
Find the best Data Science Courses in Noida… At DexLab Analytics. Get detailed information on the website.
The blog has been sourced from — www.networkworld.com/article/3305329/internet-of-things/3-iot-challenges-that-keep-data-scientists-up-at-night.html
Interested in a career in Data Analyst?

To learn more about Data Analyst with Advanced excel course – Enrol Now.
To learn more about Data Analyst with R Course – Enrol Now.
To learn more about Big Data Course – Enrol Now.

To learn more about Machine Learning Using Python and Spark – Enrol Now.
To learn more about Data Analyst with SAS Course – Enrol Now.
To learn more about Data Analyst with Apache Spark Course – Enrol Now.
To learn more about Data Analyst with Market Risk Analytics and Modelling Course – Enrol Now.