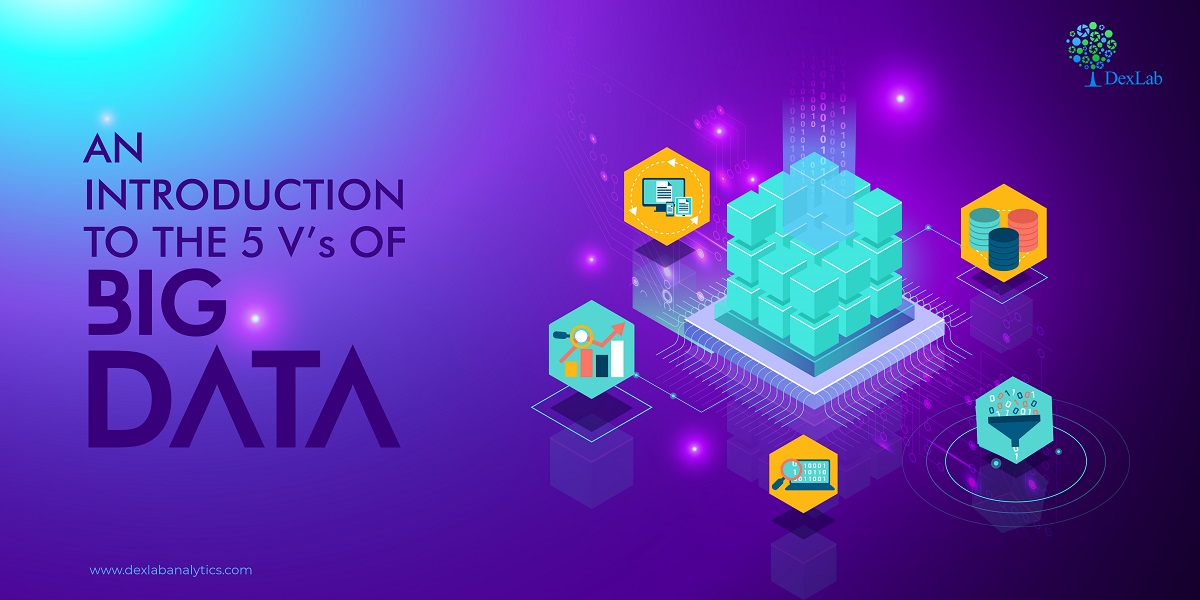 The term big data refers to the massive amount of data being generated from various sources that need to be sorted, processed, and analyzed using advanced data science tools to derive valuable insight for different industries. Now, big data comprises structured, semi-structured, and mostly unstructured data. Processing this huge data takes skill and expertise and which only someone with Data Science training would be able to do.
The concept of big data is relatively new and it started emerging post the arrival of internet closely followed by the proliferation of advanced mobile devices, social media platforms, IoT devices, and all other myriad platforms that are the breeding grounds of user-generated data. Managing and storing this data which could be in text, audio, image formats is essential for not just businesses but, for other sectors as well. The information data holds can help in the decision-making process and enable people to understand the vital aspects of an issue better.
The characteristics of big data
Now, any data cannot be classified as big data, there are certain characteristics that define big data and getting in-depth knowledge regarding these characteristics can help you grasp the concept of big data better. The main characteristics of big data could be broken down into 5Vs.
What are the 5Vs of data?
The 5Vs of data basically refers to the core elements of big data, the presence of which acts as a differentiating factor. Although many argue in favor of the essential 3 VS, other pundits prefer dissecting data as per 5Vs. These 5Vs denote Volume, Velocity, Variety, Veracity, Value the five core factors but, not necessarily in that order. However, Volume would always be the element that lays the foundation of big data. Pursuing a Data Science course would further clarify your idea of big data.
Volume
This concept is easier to grasp as it refers to the enormous amount of data being generated and collected every day. This amount is referred to as volume, the size of data definitely plays a crucial role as storing this data is posing a serious challenge for the companies. Now the size of the data would vary from one industry to the other, the amount of data an e-commerce site generates would vary from the amount generated on a popular social media platform like Facebook. Now, only advanced technology could handle and process and not to mention deal with the cost and space management issue for storing such large volumes of data.
Velocity
Another crucial feature of big data is velocity which basically refers to the speed at which data is generated and processed, analyzed, and moved across platforms to deliver insight in real-time if possible. Especially, in a field like healthcare the speed matters, crucial trading decisions that could result in loss or profit, must also be taken in an instant. Only the application of advanced data science technology can collect data points in an instant and process those at a lightning speed to deliver results. Another point to be noted here is the fact that just like volume the velocity of data is also increasing.
Variety
The 3rd V refers to the variety, a significant aspect of big data that sheds light on the diversity of data and its sources. As we already know that the data now hails from multiple sources, including social media platforms, IoT devices, and whatnot. The problem does not stop there, the data is also diverse in terms of format such as videos, texts, images, audios and it is a combination of structured and unstructured data. In fact, almost 80%-90% of data is unstructured in nature. This poses a big problem for the data scientists as sorting this data into distinct categories for processing is a complicated task. However, with advanced data science technologies in place determining the relationship among data is a lot hassle-free process now.


Veracity
It is perhaps the most significant aspect of all other elements, no matter how large datasets you have and in what variety, if the data is messy and inaccurate then it is hardly going to be of any use. Data quality matters and dirty data could be a big problem especially because of the fact that data comes from multiple sources. So, you have apparently no control, the problems range from incomplete data to inconsistency of information. In such situations filtering the data to extract quality data for analysis purposes is essential. Pursuing Data science using python training can help gain more skill required for such specific tasks.
Value
The 5th V of big data refers to the value of the data we are talking about. You are investing money in collecting, storing, and processing the big data but if it does not generate any value at the end of the day then it is completely useless. Managing this massive amount of data requires a big investment in advanced infrastructure and additional resources, so, there needs to be ROI. The data teams involved in the process of collecting, sorting, and analyzing the data need to be sure of the quality of data they are handling before making any move.
The significance of big data in generating valuable insight is undeniable and soon it would be empowering every industry. Further research in this field would lead to the development of data science tools for handling big data issues in a more efficient manner. The career prospects in this field are also bright, training from a Data analyst training institute can help push one towards a rewarding career.

.