As per the latest research from strategy analytics, the global smart watch shipments of Apple has grown by 1 percent annually to hit the major record of 8.2 million units in the 4th quarter of the year 2016. The growth of apple watch drove and got dominated with 63 percent in global smart watch share of market and Samsung still continues to hold its second position.


Neil Mawston, the Executive Director at Strategy Analytics stated on the issue by saying – the global shipments have grown by 1 percent annually from the pre-existing 8.1 million units in quarter 4 in 2015 to 8.2 million in quarter 4 in 2016. The market shows a marked growth in the fourth quarter for growth in smart watches industry after the past two consecutive quarters for declining volumes. The smart watch growth is also seen to be recovering ever so slightly due to new product launches from other company giants. Moreover, there is a seasonal demand for these gadgets, and a giant such as Apple is launching stringer demand in the major developed markets in the US and UK. Hence, the international smart watch shipments grew by 1 percent annually; from the previously existing 20.8 million in full-year 2015 to a record high of 21.1 million in 2016.
 Read Also : DexLab Analytics – Training the Future to be Big Data Analytics Fluent
With such an increase in strategy analysis of major business operations around the world the demand for individuals seeking a reputable analytics training institute has increased by manifolds.
Further speaking on the topic, Director at Strategy Analytics, Cliff Raskind added – "We have an anticipation of Apple watches that were shipped to be a record high of 5.2 million smart watches, all over the world. This captured a dominant 65 percent of the market share in the quarter 4 of 2016; with a steady increase of 2 percent annually from the 5.1 million units in QUARTER 4 of 2015. Also the demands for the newly launched Apple watch series 2 which was a holiday season gift in the western markets was also seen to be surprisingly strong. And this further enabled Apple to evacuate a large backlog of their smart watch inventory during that quarter.
Another Industry Analyst at Strategy Analytics, Steven Waltzer stated on this growth by saying – "We estimate that Samsung our competing brand has only shipped 0.8 million smart watches around the world in the fourth quarter of 2016, which is a dip of 38 percent annually from 1.3 million units in the fourth quarter of 2015.
Also Samsung introduced their flagship Gear S3 model which is a relatively late launch in the quarter and this had a negative impact to its overall smart watch performance. When brought together in comparison Apple and Samsung presently account for a whopping 3 out of 4 of all smart watches shipped globally and so they are a long way ahead of other tailing rival companies like Fitbit, Garmin and Huawei.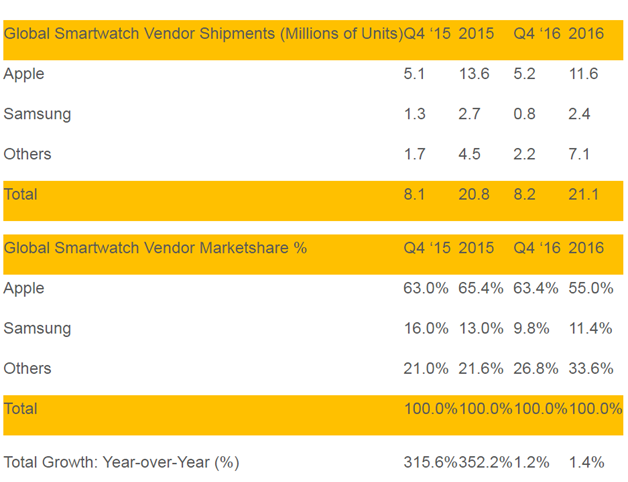 Figure 1 Smart watch shipments in vendor and market share in quarter 4 2016
Other rivals like Samsung among several more, thus, need to launch better cheaper alternative models to get themselves out of the woods, as can be revealed from the strategy analysis report.
Looking for business analysis training in Delhi to up your strategy game? Take up our online certificate course in credit risk analysis.
Interested in a career in Data Analyst?

To learn more about Machine Learning Using Python and Spark – click here.
To learn more about Data Analyst with Advanced excel course – click here.
To learn more about Data Analyst with SAS Course – click here.
To learn more about Data Analyst with R Course – click here.
To learn more about Big Data Course – click here.