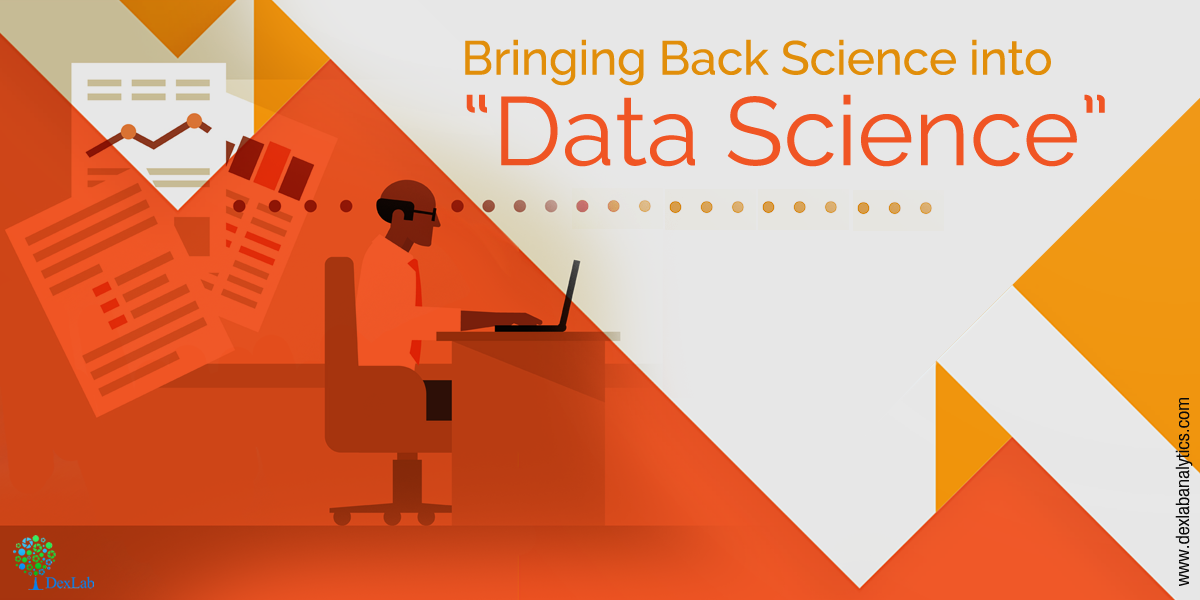 Far from the conventional science disciplines, like physics or mathematics, Data Science is a budding discipline: which means there are no proper definition to explain what data science is and what role it does play.
Nevertheless, the internet is full of working definitions of data science. As per Wikipedia, Data Science is
(an) interdisciplinary field about processes and systems to extract knowledge or insights from data in various forms, either structured or unstructured, which is a continuation of some of the data analysis fields such as statistics, data mining, and predictive analytics.
To that note, a very important aspect is left behind in this explanation: Data Science is a science first, which means a proper scientific method should be devised to tackle different data science practices. By scientific method, we mean a healthy process of asking questions, collecting information, framing hypothesis and analyzing the results to draw conclusions thereafter.
Go below, the process breakup is as follows..
Ask questions
Start by asking what is the business problem? How to leverage maximum gains? What ways to implement to increase return on investment? The finance industry takes help from data science for myriad reasons. One of the most striking reasons is to enhance the return on investment out of marketing campaigns.
Collect data
A predictive modeling analyst has access to vast data resources, which eventually makes the entire research and gathering data process much less complex. However, it is only in theory, because rarely data is stored in the desired format an analyst wants, making his job easier.
Devise a hypothesis
After getting to the heart and soul of the problem, we start to develop hypotheses. For example, you believe your firm's profit is leveraged by an optimistic customer reaction towards your product quality and positive advertising capabilities of your firm. Through this example, we explained a nomological network, where you are in a position to infer casualties and correlations. While dealing in Data Science, assessing customer perception is very crucial, and so is the analysis of financial datasets.
Testing and experiments
Formulating a hypothesis is not enough; a predictive modeler relies on statistical modeling techniques to forecast the future in a probabilistic manner. Keep a note, this doesn't result in indicating "X will occur", instead it refers "Given Y, the probability of X occurring is 75%."
Any proper experiment includes control groups and test, meaning a modeler when preparing a predictive model should divide the dataset so as to ensure availability of few data for testing predictive equation.
Now, if we talk about marketing – consider logistic regression. It offers a probability whether a binary event of interest will take place or not.
Enroll in an R Predictive Modelling Certification program to go through the mechanics of this problem. Reach us at DexLab Analytics.
Evaluate results and infer conclusions
Now is the time to make a decision: do you prefer the quantitative approach? As social media is totally unstructured, the qualitative approach needs to be implemented using Natural Language Processing, which can be a tad difficult. Now, how about making a longitudinal analysis, while transforming data into time series? Do all these questions rake your mind? Yes? Then you are on the right track.
Reporting of results
This is the final battle scene for all predictive modelers. It calls for all the documents, based on which a modeler made his decision during the development process. All the assumptions taken have to be identified and highlighted beside the results.
And with it comes the end of our Science in Data Science process!
For more interesting updates and blogs, follow us at DexLab Analytics. Opt for our impressive Data Science Courses in gurgaon and lead the road of success!
Interested in a career in Data Analyst?

To learn more about Data Analyst with Advanced excel course – Enrol Now.
To learn more about Data Analyst with R Course – Enrol Now.
To learn more about Big Data Course – Enrol Now.

To learn more about Machine Learning Using Python and Spark – Enrol Now.
To learn more about Data Analyst with SAS Course – Enrol Now.
To learn more about Data Analyst with Apache Spark Course – Enrol Now.
To learn more about Data Analyst with Market Risk Analytics and Modelling Course – Enrol Now.