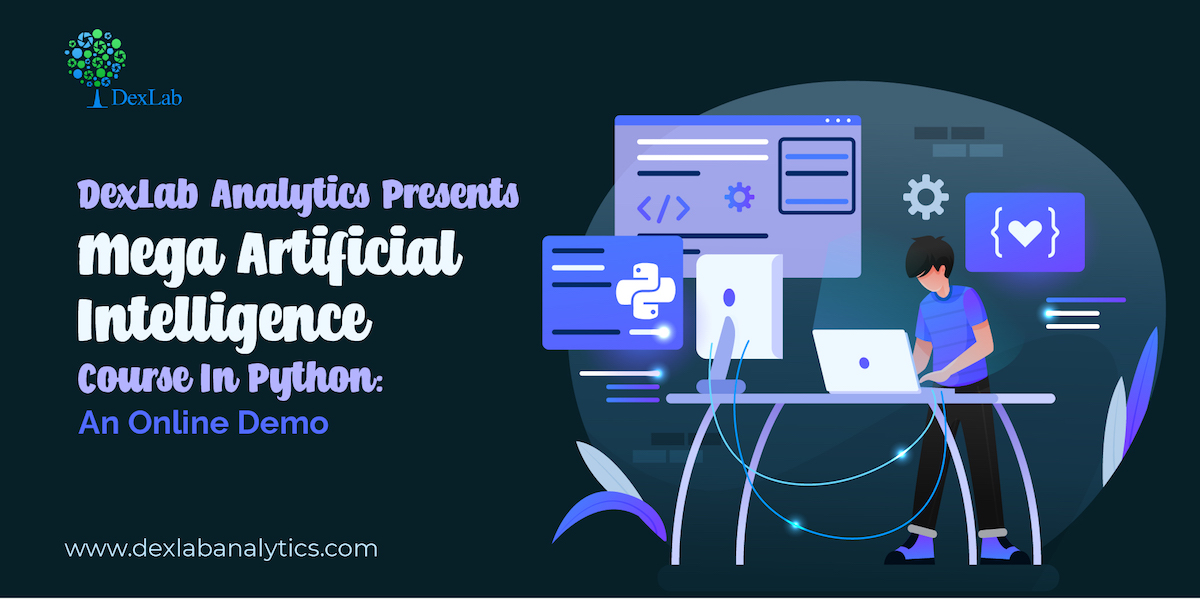 Dexlab Analytics is undoubtedly a leading name in the field of the Big Data Analytics industry. The latest offering from this institute is a course that is remarkable in so many ways. The course is Mega Artificial Intelligence Course In Python, which aims to cover everything you ever need to learn regarding artificial intelligence. To help you get a better grasp of the course we have also prepared an online demo and the demo video is attached at the end of the blog do check that out to clear away any confusion you might have.
Before getting into the course details, there are certain features of the course that we think you should know about. To begin with, you do not need any special educational background, you can hail from any stream and can still pursue the course because here we will teach you from scratch. Just having some mathematical knowledge is fine. We have kept things flexible here, so you can repeat the course if and when necessary. The notes that you will be needing for the course including the code sheets, will be provided to you in the beginning so that you do not have to waste precious time in class taking notes.
However, the nature of the course will be online, because due to COVID 19 situation offline classes are temporarily not possible. You will be given all the classroom videos, furthermore, there will be guidelines regarding Kaggle.com where we will teach you how to participate in this pioneering data science website, how to compete over there and offer you tips to increase your ranking. All in all the course aims to transform you into a super data scientist.
You can find the detailed course information, the online demo and brochure in the PPT format at
The course will be divide into three sections starting with PYTHON  PROGRAMMING for Data Science. Throughout the sessions, you will get familiar with the language, its libraries. You will be taught to use Plotly and handle projects before moving onto the second section which is AI( Artificial Intelligence) comprising three components namely Statistics, Machine Learning, and Deep Learning. Along with picking up the nuances, you would handle mega projects including one on self driving cars. Moving on to the next segment of Big Data get introduced to PySpark. Handling a growing amount of data could be tough, so, an introduction to Quantum Computing seems necessary before wrapping things up.
Do check out the course details in the video attached below that gives you a thorough tour of the entire course and also check out the course brochure. Our contact number is provided there along with our website address, feel free to contact us regarding any query.

.