Data explosion, sprawling around Facebook and Internet of Things need to be nipped now to make sense what's in there. Data is filled with promises, it offers new significant insights culled from the patterns in the data to just not report what happened but predict future scenarios.
This has led organizations to hire data scientists who are adept with the expertise and experience to shed some light on the mysteries of NoSQL data lakes and data bases, in which data is hoarded. For best SAS analytics training in Gurgaon, look up to DexLab Analytics – their SAS certification in Delhi is nifty and student-friendly.
Data for one, data for all
Originally, business intelligence was confined to the IT segment, which churned out standard reports, with the help of historical data extracted from structured data shops and bases. Impromptu requests may take weeks or even months to produce desired results and in this era of fast big data, this kind of lagged-behind response is just not enough.
Being a data-driven enterprise, you need to give access to data to each employee, except those bounded by security obligations. And those who have access to data should be encouraged to use it prudently and get acquainted with what is available. Make this initiative a hands-down priority, with professionals driving the change. Most probably, this is touted as the biggest cultural change in most of the companies, and Forbes Survey has proof for this:
Fueling a data-driven business model
Centralized or decentralized, deployment of data science and business analytics is an intricate process, involving a set of definite strategies. The centralized approach resembles conventional business intelligence system – in this, the data analysts need to report to a CDO (chief data officer), who will work with your CIO (chief information officer). The team of analysts should include business users, who are known to trigger the business need and are responsible to fetch output.
As a result, decentralized one is better and more effective– here, data scientists are classified to different business units. Undoubtedly, this method is mostly implemented by large-scale business houses that possess enough resources to appoint data scientists.
Hitting results: Implementation and Operationalization
Gathering, quarrying and mining of information (data) is just the beginning of the intelligent use of data. Besides harboring a cutting edge organizational framework perfect for data analysis, there is a pressing need for a process that would decide when to act on a particular set of data. Though it may appear quite an easy task, but it's not – often data is used very poorly, resulting in lower ROI.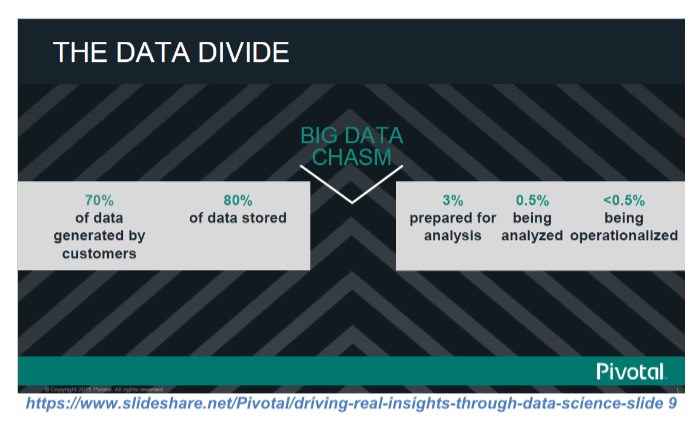 The quantity of data analyzed is very small, and data operationalized is even smaller. But, remember, even 1% can bring in a huge difference – check the diagram again.
The degenerating ROI is owed to numerous operational challenges, starting with a lapse in process integration, failure to act promptly on perishable data to timing issues. Appoint data-conscious analysts to act right upon the failing issues with as little obstruction as possible. After all, human intelligence is still considered the most important factor for efficacious digital transformation.
 To channelize your vision to a data-driven horizon, opt for Data Science Courses Online by DexLab AnalyticsDexLab Analytics. It is the right tool to have to transit towards a true digital transformation. Check the course itinerary now.
Interested in a career in Data Analyst?

To learn more about Machine Learning Using Python and Spark – click here.

To learn more about Data Analyst with Advanced excel course – click here.
To learn more about Data Analyst with SAS Course – click here.
To learn more about Data Analyst with R Course – click here.
To learn more about Big Data Course – click here.