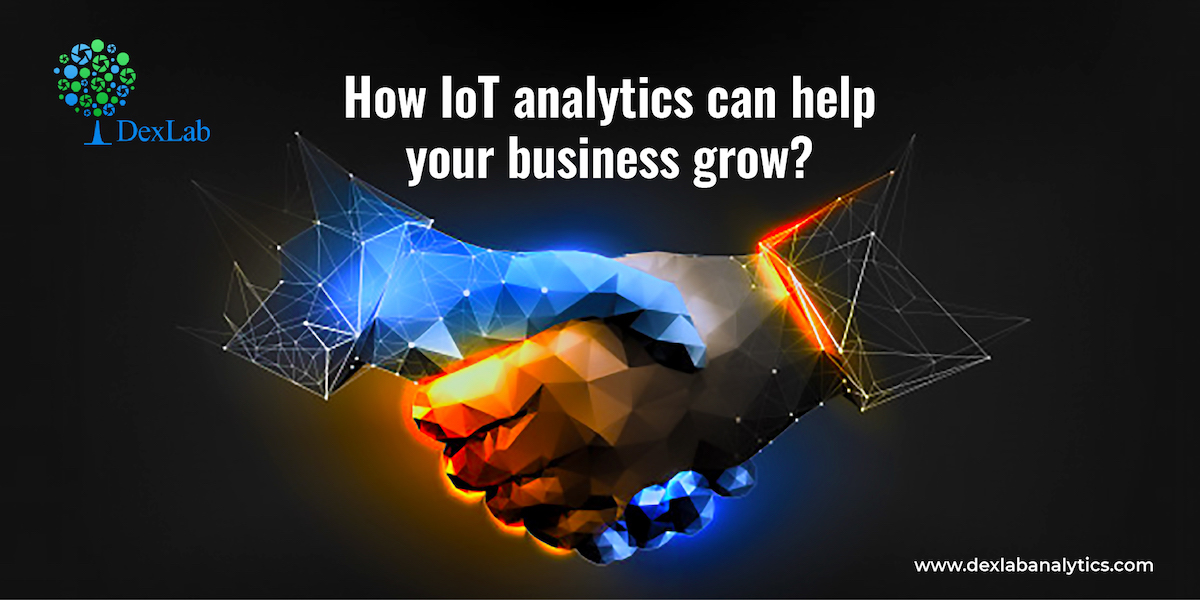 Internet of Things or IOT devices are a rage now, as these devices staying connected to the internet can procure data and exchange the same using the sensors embedded in those. Now the data which is being generated in copious amount needs to be processed and in comes IoT Analytics. This platform basically is concerned with analyzing the large amount of data generated by the devices. The interconnectivity of devices is helping different sectors be in sync with the world, and the timely extraction of data is of utmost significance now as it delivers actionable insights. This is a highly skilled job responsibility that could only be handled by professionals having done artificial intelligence course in delhi.
This particular domain is in the nascent stage and it is still growing, however, it is needless to point out that IoT analytics holds the clue to business success, as it enables the organizations to not only extract information from heterogeneous data but also helps in data integration. With the IoT devices generating almost 5 quintillion bytes of data, it is high time the organizations start investing in developing IoT analytics platform and building a data expert team comprising individuals having a background in Machine Learning Using Python. Now let's have a look at the ways IoT analytics can boost business growth.
Optimized automated work environment
IoT analytics can optimize the automated work environment, especially the manufacturing companies can keep track of procedures without involving human employees and thereby lessening the chances of error and enhancing the accuracy of predicting machine failure, with the sensors monitoring the equipments and tracing every single issue in real-time and sending alerts to make way for predictive maintenance. The production flow goes on smoothly as a result without developing any glitch.
Increasing productivity
In an organization gauging the activity of the employees assumes huge significance as it directly impacts the productivity of the company, with sensors being strategically placed to monitor employee activity, performance, moods and other data points, this job gets easier. The data later gets analyzed to give the management valuable clues that enable them to make necessary modifications in policies.  
Bettering customer experience
Regardless of the nature of your business, you would want to make sure that your customers derive  utmost satisfaction. With IoT data analytics in place you are able to trace their preferences thanks to the data streaming from devices where they have already left a digital footprint of their shopping as well as searching patterns. This in turn enables you to offer tailor-made service or products. Monitoring of customer behavior could lead to devising marketing strategies that are information based.
Staying ahead by predicting trends
One of the crucial aspects of IoT analytics is its ability to predict future trends. As the smart sensors keep tracking data regarding customer behavior, product performance, it becomes easier for businesses to analyze future demands and also the way trends will change to make way for emerging ones and it enables the businesses to be ready. Having access to a future estimate prepares not just businesses but industries be future ready.


Smarter resource management
Efficient utilization of resources is crucial to any business, and IoT analytics can help in a big way by making predictions on the basis of real-time data. It allows companies to measure their current resource allocation plan and make adjustments to make optimal usage of the available resources and channelizing that in the right direction. It also aids in disaster planning.
Ever since we went digital the streaming of large quantity of data has become a reality and this is going to continue in the coming decades. Since, most of the data generated this way is unstructured there needs to be cutting edge platforms like IoT analytics available to manage the data and processing it to enable industries make informed decisions. Accessing Data Science training, would help individuals planning on making a career in this field.

.