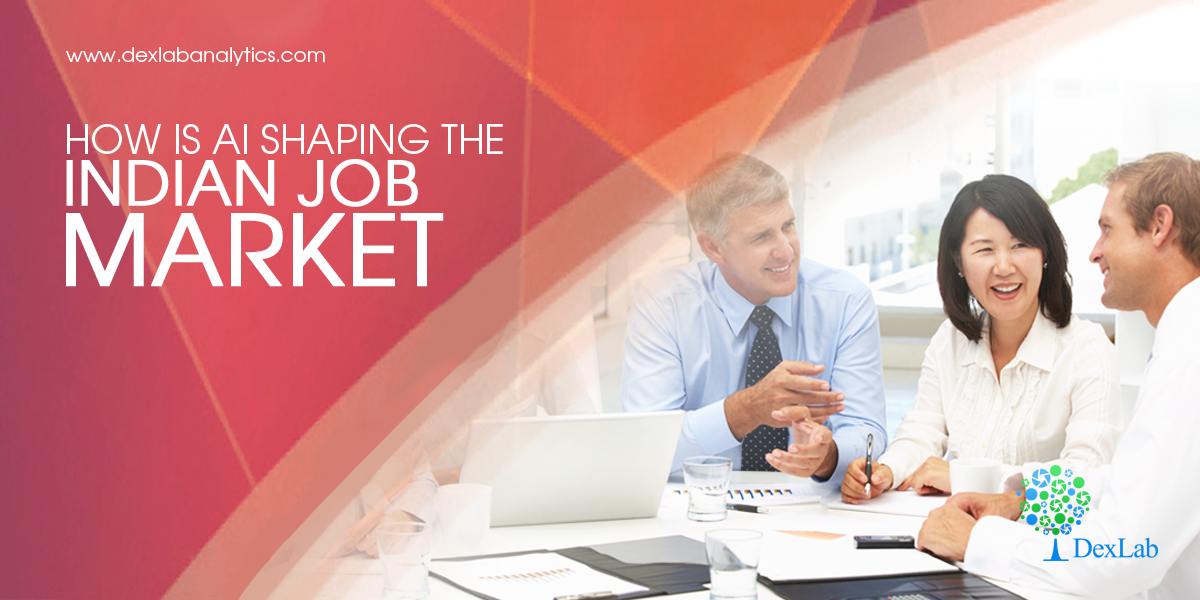 Currently, startups focusing on Artificial Intelligence, Machine Learning and Deep Learning are on the rise in India. According to a recent report by AI Task Force, there are 750 startups in India that are actively working to build a robust AI ecosystem in India. Initiatives to promote AI by Indian government include establishment of NITI Aayog, the policy think tank of India, and Digital India, which is a campaign to improve technological infrastructure of the country.
65% of participants of a PwC survey believed that AI will have a grave impact on the employment scenario of India. Interestingly, the majority of participants of this survey were of the opinion that AI will allow employees to do more value-added tasks as it will take up all the daily mundane tasks.

Job market outlook:
''We expect a 60 per cent increase in demand for AI and machine learning specialists in 2018'', said BN Thammaiah, Managing Director, Kelly Services India. Belong, a Bengaluru-based outbound hiring firm startup, shares the same view, stating that the demand for AI professionals has risen by leaps and bounds due to the widespread adoption of AI and automation technologies across companies. Consulting industry leader, Accenture, expects AI to add $957 to India's GDP by 2035.
Jump in demand:
Only 4 percent of AI professionals have work experience in core domains, like deep learning and neural networks.
For every 1000 jobs in the field of Deep learning, there are approximately 530 professionals available. Similarly, for every 1000 jobs in the field of Neuro-linguistic Programming (NLP), there are only 710 professionals available.
The lack of core data science disciplines in engineering institutes across the country is responsible for the disparity between demand and supply of AI professionals. Only a few selected institutes, like IITs and IISc, have ML programs in their curriculum. The active AI researchers in India are a meager 386 in number.
AI hotspots in India:
AI-work hubs in India are Bengaluru, New Delhi and Mumbai. IBM, Microsoft, Flipkart and Amazon are carrying out good research work in AI. Companies like Adobe, Accenture, Amazon, JP Morgan, SAP, L&T Infotech, Nvidia, Intel and Wipro are actively hiring AI professionals. The main sectors fostering AI employment are e-commerce, banking and finance. Kamal Karanath, Co-founder of Xpheno, a recruitment company, said that there would be a huge demand for AI engineers in these sectors in the next 5 years. AI-powered technology boosts efficiency and security of Indian banking and financial sector.
India Inc is endeavoring to upskill workers in subjects like machine learning, cloud computing and big data. In efforts to nurture talent and obtain solutions from vertical focused AI startups, which are developing innovative technologies, enterprises have set up many accelerator programs. Flipkart is developing AI products that will boost their business growth.

A peek into the future of AI:
The Indian government intends to establish research institutes and Centres of Excellence that foster training and skilling in fields like AI, robotics, big data analysis and internet of things. Top engineering schools, like IITs, IIITs and IISc are collaborating with industries to bridge the gap in AI talent, provide targeted solutions and steer growth of the AI industry. Government of India is framing numerous policies to promote industry-academic partnerships.
Get an edge in this AI-era by enrolling yourself for the Machine Learning training course at DexLab Analytics– a leading data analyst training institute in Delhi.
Interested in a career in Data Analyst?

To learn more about Data Analyst with Advanced excel course – Enrol Now.
To learn more about Data Analyst with R Course – Enrol Now.
To learn more about Big Data Course – Enrol Now.

To learn more about Machine Learning Using Python and Spark – Enrol Now.
To learn more about Data Analyst with SAS Course – Enrol Now.
To learn more about Data Analyst with Apache Spark Course – Enrol Now.
To learn more about Data Analyst with Market Risk Analytics and Modelling Course – Enrol Now.