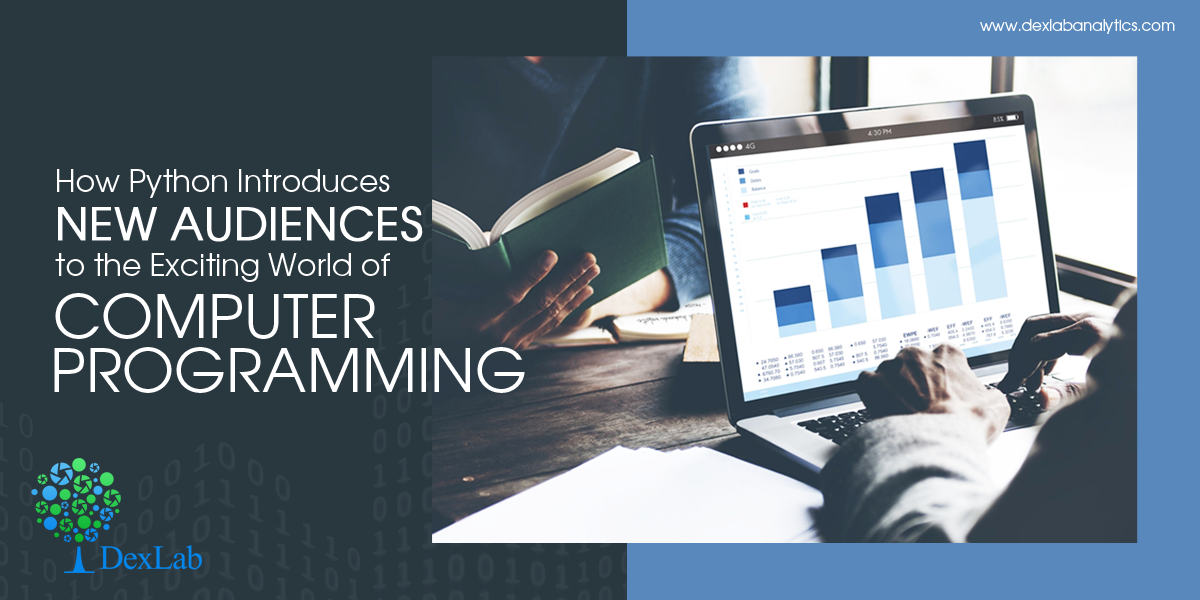 What was the motivation behind the birth of Python? The language has been searched by American Google users more often than Kim Kardashian in the last one year! And the rate of queries related to Python has trebled since 2010.
Dutch computer scientist, Guido van Rossum, fed up with the shortcomings in commonly used programming languages, developed Python as his Christmas project in 1989. He wanted a language that was simple to read, allowed users to create their own modules for special-purpose coding and then made this package available to others. And lastly he wanted a ''short, unique and slightly mysterious'' name. He named the package after the British comedy group, Monty Python. And Cheese Shop was the chosen name for the package repository.
Nearly three decades after this ground-breaking Christmas invention, the popularity of Python is still growing. According to stats from Stack Overflow, a programming forum, approximately 40% of developers use it and 25% intend to do so. But the programming language isn't admired by the community of developers alone; it is well-liked the public in general. According to Codecademy, a website that has taught different programming languages to over 45 million novices, Python has the highest demand. Python aficionados, known as Pythonistas, have contributed over 145,000 packages to the Cheese Shop and these cover diverse realms, such as astronomy and game development.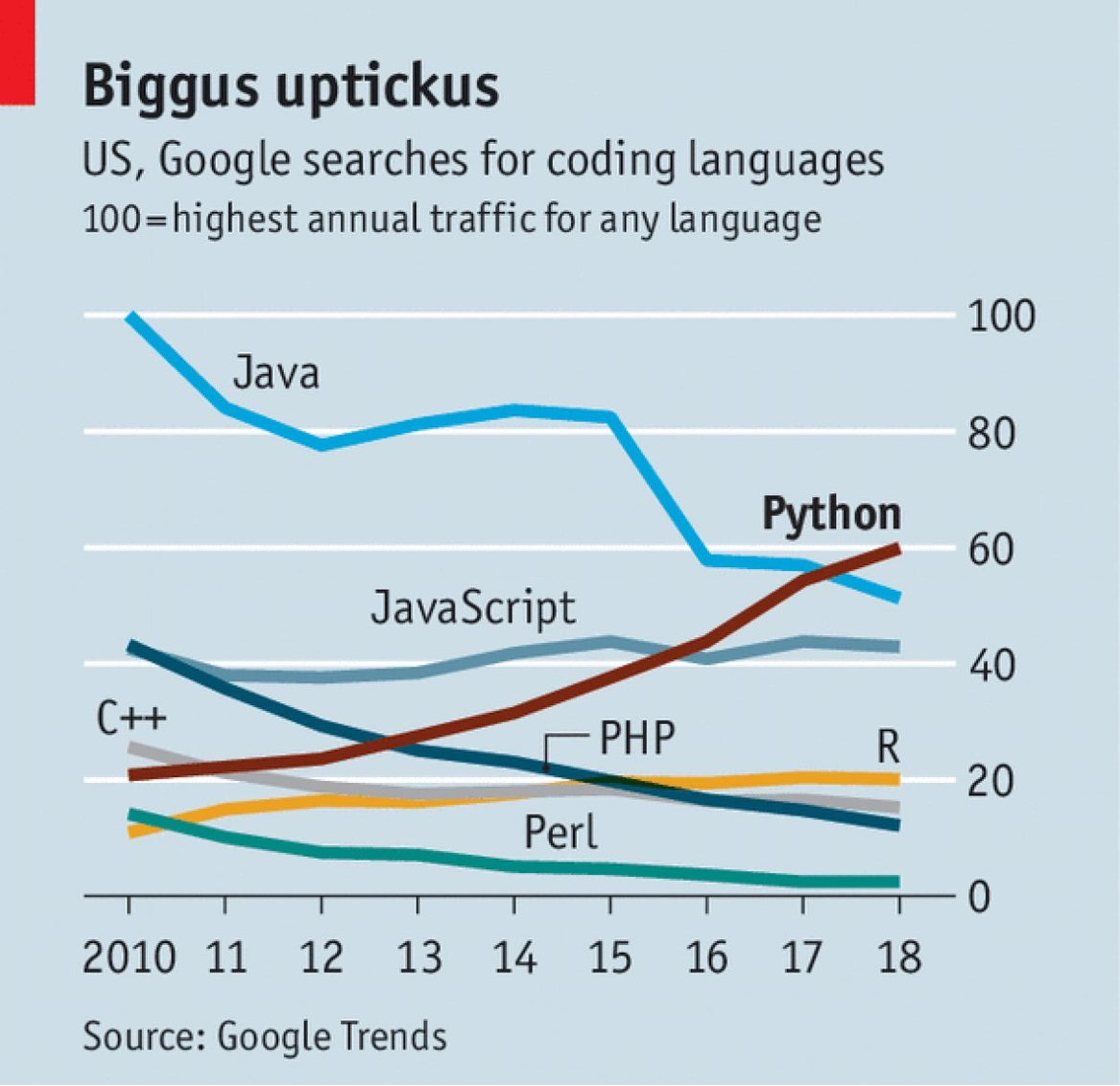 Image source: Economist
Decoding Python's Fame
Python isn't perfect. There are other languages that have higher processing efficiency and give users better control over the computer's processor. However, Python possesses some killer features, which make it a great general purpose language. It has easy-to-learn syntax that simplifies coding. Python is a versatile platform that has a variety of applications.
The Central Intelligence Agency uses it for hacking

Pixar employs it for work related to films

Google uses it for crawling web pages

Spotify recommends songs with the help of Python
Python is also widely used for tasks that are grouped under ''non-technical''. Following are some examples:
Marketers build statistical models with the help of Python to judge the effectiveness of campaigns.

Lecturers use it to find out if the grading system is accurate or not

Journalists use codes written in Python for grazing the web for data
Professionals who need to trawl through spreadsheets find Python highly valuable for their work. EFinancialCareers, a website dealing with jobs, has reported a fourfold increase between 2015 and 2018 in job listings that mention Python. Citigroup, the reputed American bank, organizes crash courses in Python to train newly hired analysts.
Some of the most appealing packages within the Cheese shop harness the power of AI. Mr. Van Rossum declares that Python is the preferred language for AI researchers. They use it for creating neural networks and identifying patterns from huge data sets. However, the high demand for learning Python comes with certain risks. Novices who know how to use different tools but don't know their intricacies well are prone to make faulty conclusions without proper supervision.
One solution for this problem is to educate students from an early age. Generally, teaching programming languages is limited to STEM students in American universities. A radical proposal is to offer computer science classes to primary school children. Anticipating a future filled with automated jobs, 90% American parents have expressed desire that their children receive computer programming classes in school.
Presently, 67% of 10-12 year olds have accounts in Code.org. In university level, Python has been ranked the most popular programming language for 2014. While nobody can predict how much longer Python will keep reigning, one thing is for sure, Mr. Rossum's Christmas invention is truly smart and purposeful.
To the dismay of Pythonistas, on 12th July 2018, he stepped down from the position of supervising the community. The reason being his discomfort with the rising fame!
Well, we hope Python's glory continues for years to come! To read more blogs on the latest developments in the world of technology, follow DexLab Analytics. If you're interested in mastering machine learning using Python, then you must check our machine learning courses in Delhi.
Reference: economist.com/science-and-technology/2018/07/19/python-has-brought-computer-programming-to-a-vast-new-audience
Interested in a career in Data Analyst?

To learn more about Data Analyst with Advanced excel course – Enrol Now.
To learn more about Data Analyst with R Course – Enrol Now.
To learn more about Big Data Course – Enrol Now.

To learn more about Machine Learning Using Python and Spark – Enrol Now.
To learn more about Data Analyst with SAS Course – Enrol Now.
To learn more about Data Analyst with Apache Spark Course – Enrol Now.
To learn more about Data Analyst with Market Risk Analytics and Modelling Course – Enrol Now.