Learning is almost close to being free with the ascent of the internet era. People keen on learning new things need not go across the world or even migrate to different cities. They can simply open their browser and gather as much knowledge as they want online while watching tutorials, reading articles and guides and watching free demo sessions. This convenience is now available for the challenging field of data analytics as well, as DexLab Analytics the premiere data analytics training institute in the country is offering a free live demo session on Credit Risk Modelling using SAS this Saturday at 5 PM.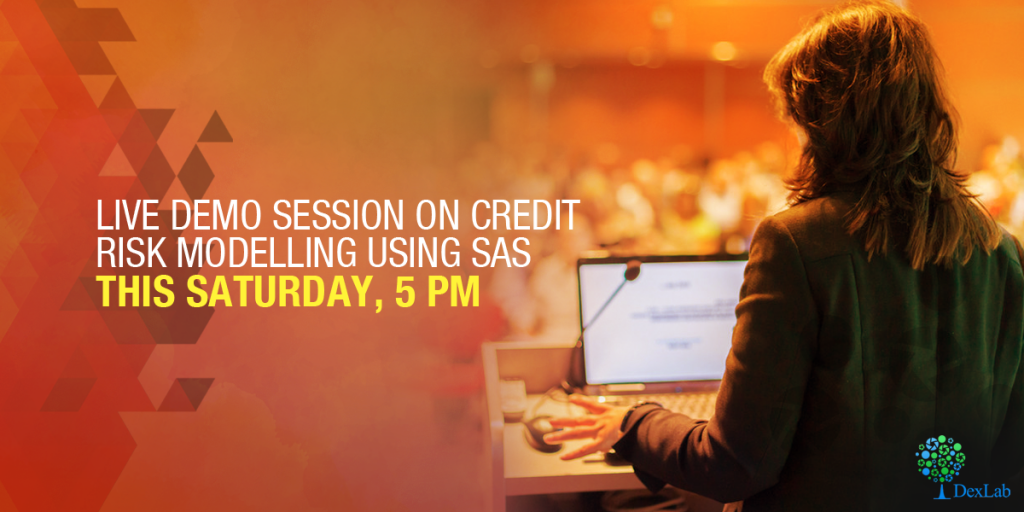 To join our demo session all you have to do is register for the same with an email directly to us at hello@dexlabanalytics.com or even drop in a line showing interested at our contact us form. Then all that is left to do is to make yourself comfortable with keen ears and eyes at 5 PM sharp in front of the computer screen. The demo session is to be held today (at 15/10/2016) live, online and will be completely free.
Credit risk modelling is a part of credit risk management that forms a framework for measuring the risks associated with traditional crediting products like loans, financial letters of credit etc. With bad loans soaring high these days and affecting the economy with major blows, credit risk management is an imperative economic tool for maintaining peace within the fiscal world.
The institute offers a full fledged course on Credit Risk Modelling and Analytics of 70 hours, on scorecards and other relevant concepts. The course module can be taken up online in live classrooms with flexible weekend schedules, which in no way is any less in clarity and mode of instruction or intractability as a normal physical classroom.
Professionals who further seek the boost of an analytics degree on their resumes for greater career fulfilment can judge the course content, quality of the faculty's instruction, practical applicability and intractability for their complete courses by partaking in this demo session.
Hurry only a few hours until we begin our session! To register your name click on the button below:

Interested in a career in Data Analyst?

To learn more about Machine Learning Using Python and Spark – click here.

To learn more about Data Analyst with Advanced excel course – click here.
To learn more about Data Analyst with SAS Course – click here.
To learn more about Data Analyst with R Course – click here.
To learn more about Big Data Course – click here.