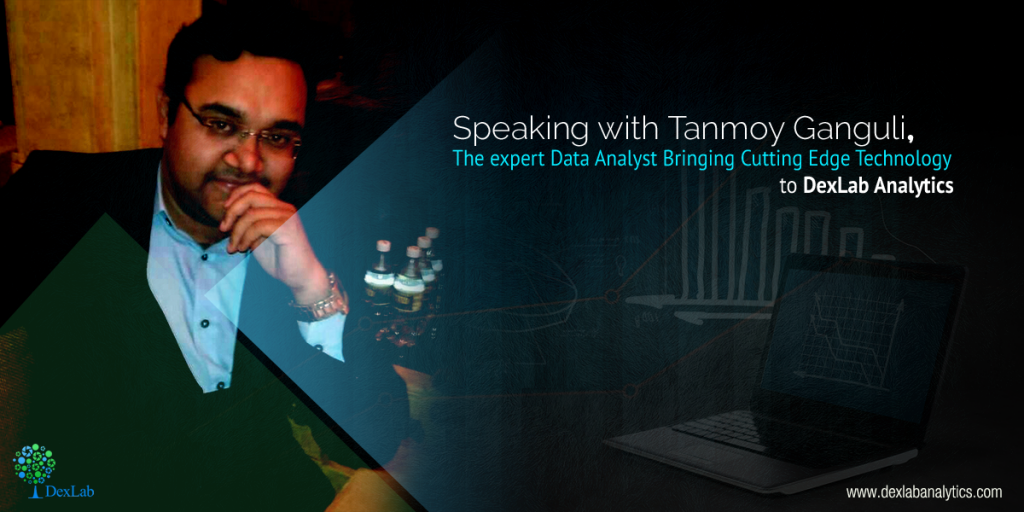 DexLab Analytics is proud to announce that Tanmoy Ganguli, a proficient Data Analyst who has a long standing experience in Credit Risk Modelling, SAS and regression models is joining our Gurgaon institute as Program Director. Here are some excerpts from an interview we conducted, where he talks about the various challenges he faced in his career and the rapid development of Data Analytics.
DexLab: Thank you for taking some time off from your busy schedule and agreeing to do this interview. What inspired you to join the field of Data Analytics?
Tanmoy Ganguli: Thank you very much. It is a funny story actually. While I was pursuing a major in Economics I first came across the buzzword 'Analytics' within the University Campus. But I didn't pay much attention to it as my preference was to do academic research and eventually becoming a professor.
But as luck would have it a group of analytics professionals visited the college campus in Kolkata where I was an Assistant Professor at that time. I attended their workshop and was intrigued to see the application of basic statistical techniques to solve real world problems. It got me hooked. I realized that academic literature when implemented properly can be used to solve substantial business problems. That's how it all started.
DexLab: Did you face any hurdles while making the transition from academia to industry?
Tanmoy Ganguli: Experience plays a vital role in the business sector. I had 3 years of experience in academia but no real experience in handling live projects. This put me in a bit of a fix as I was considered neither an experienced professional nor a fresher. Also, most of the HR consultancies considered me over qualified for job positions as I was completing my PhD at that time. After waiting for two months I finally got an opportunity to develop a model that was compatible with my area of research and specialization. This event was the turning point of my career and I haven't looked back since then.
DexLab: What is your area of specialty?
Tanmoy Ganguli: For a better part of my corporate career I have mainly worked on Credit Risk Model Development and Validation. My job profile involved scorecard development using regression and decision tree frameworks. I am confident to say that logistic regression is my area of expertise.
DexLab: What made you accept the role of Program Director at DexLab Analytics?
Tanmoy Ganguli: Well, that's a rather interesting story! I became an acquaintance of Subhrajyoti (co-founder of DexLab Analytics) back in 2012, when we were both trying to build our own careers in our respective fields. In the mid 2015's I came to know from online sources that Subhrajyoti along with Mr. Vivek Debuka has founded DexLab Analytics. The thing that impressed me the most about DexLab was that unlike other institutes, DexLab wanted to explore new territories and was open to new initiatives. Upon the insistence of Subhrajyoti I started off by writing occasional blogs and conducting interviews for hiring resources. 2016 saw a substantial surge in the request for conducting workshops from senior clients. As a result my involvement with DexLab became more intense. I finally made up my mind and resigned from my position in HSBC and invested all my energy into DexLab Analytics.
DexLab: What are your plans for DexLab Analytics?
Tanmoy Ganguli: My main aim is to hone the skills of the technical team so that they can offer optimum training experience to the clients and students. Apart from this we need to create a blueprint for the extension of our services in the consultation front. A lot can be achieved if we properly exploit the training and consulting field.
DexLab: One last question before we wrap up this interview. What advice would you give to the youngsters who are interested in joining the exciting domain of data analytics?
Tanmoy Ganguli: Steve Job's couldn't have put it better when he said "Stay Hungry… Stay Foolish" in 2005's Stanford Convocation Lecture. All I want to say to the younger generation is that stay hungry for knowledge and explore the unknown and stay foolish enough to strive for success even in the face of abject failure.
Interested in a career in Data Analyst?

To learn more about Machine Learning Using Python and Spark – click here.
To learn more about Data Analyst with Advanced excel course – click here.
To learn more about Data Analyst with SAS Course – click here.
To learn more about Data Analyst with R Course – click here.
To learn more about Big Data Course – click here.