DexLab Analytics is proud to announce a complimentary online demo session which will be held on Saturday 15th October, 2016 at 10:00 PM on the topic of R Programming, Core Analytics & Predictive Modelling. It will be a 30 to 45 minute session which will give the aspiring candidates a glimpse into the content quality, delivery style and intractability with the faculty at the institute.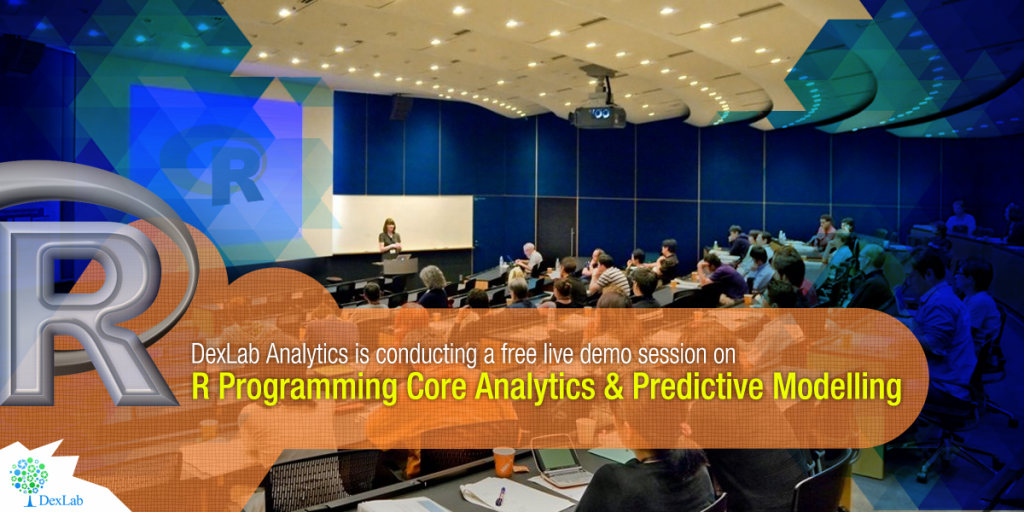 Those who want to join this demo session must email stating their interest directly to DexLab Analytics for registering for the same. Although as is the common notion about free things that they are usually of poor quality, but for this complimentary session we can promise the case will not stand true. This session will offer ample insight about what to expect in the upcoming batches. This is a one-of-a-kind endeavour by DexLab Analytics as no other analytics training institute offers such complimentary sessions.
We remain truly dedicated to our mission of maintaining transparency in all our operations when it comes to training professionals in such a complex field of data analysis. The complete training module will be of 42 hours which will include hands-on practical learning opportunities. Both weekend and weekday classrooms are available with live online training. Students will be further acquainted with the course details at the demo session itself.
This is a great opportunity for professionals keen on advancing their career with data analytics which is the biggest buzzword in the industry today. We suggest you try and soak up as much knowledge about R Programming, predictive modelling and core analytics as possible, with this upcoming free session from DexLab Analytics and see if you are cut out for an analytical life.
Hurry there is just one more day left for registration!
Interested in a career in Data Analyst?

To learn more about Machine Learning Using Python and Spark – click here.

To learn more about Data Analyst with Advanced excel course – click here.
To learn more about Data Analyst with SAS Course – click here.
To learn more about Data Analyst with R Course – click here.
To learn more about Big Data Course – click here.