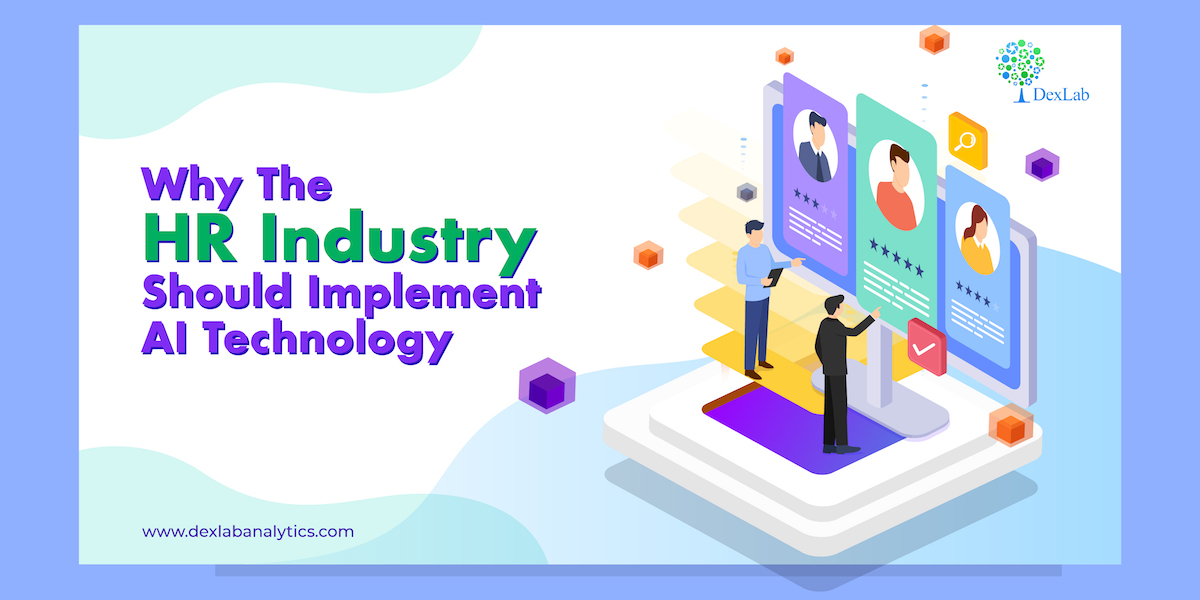 Human resources is a significant part of business as it is in charge of managing the most valuable asset a company can have the employees. AI technology is being adopted in HR practices as businesses have started to identify the crucial areas in HR which could perform better by incorporating AI solutions.
Whether it is recruiting new talent, employee retention, or, performing administrative tasks, the HR department can surely benefit from the application of latest AI tools to make their tasks error-free, be more objective in their approach, automate tasks and not to mention gain deeper insight into employee data to get their strategies right. Implementation of AI requires having skilled personnel who have pursued artificial intelligence course in delhi.
Although the implementation is still happening on a small scale and somewhat sporadically,  the sector is waking up to the power of AI and slowly savoring the benefits.
How the HR sector is benefitting from AI
Hassle-free hiring
Recruiting new talent is one of the crucial jobs handled by any HR team in any organization. However, the usual hiring process can be a tedious task, and more often than not is not free from error or, worse bias.
Not just that but, screening of applications takes a painfully long time and scheduling interviews can be hectic.
AI can address all these issues, by automating the entire process. The task of screening application and replying to candidates can be automated, which means the employers can act faster and since it would not require much involvement from the HR team, they can focus their attention on some other productive work.
Smart screening of applications makes it easier and faster to shortlist candidates. Maintaining a database of past applicants can immediately alert the HR team to find a suitable candidate who might be considered for a new position instead of looking for new ones.
Furthermore, the task of background verification would become an efficient process, since, detecting any oddity in the datasets will get easier. 
Keep bias out of hiring
As more and more companies are now focusing on having a diverse workforce that promises to provide equal opportunity to employees regardless of gender, race, keeping the element of bias out of their recruiting process is essential otherwise it might harm their image.
The job postings that one comes across often have been detected to contain biased language which despite being apparently harmless in nature might turn off a potential candidate. During the screening of applications and interviews, the element of human bias can creep in as well.
With pattern detection of previous applications and subsequent response, this issue can get resolved. It would be possible for a recruiter to access a database that contains far more diversity and with the help of NLP, it would enable them to write a job posting more objectively. Having knowledge in Machine Learning Using Python, can enable the team to detect the negative patterns faster.
Improve the onboarding process for recruits
Once the hiring process gets over and done with onboarding begins, which could be a taxing experience for both new recruits and the HR team if not handled with care. As the new faces get integrated with the system, the HR team faces several queries, and investing a significant amount of time for doing this task is not possible for them.
As far as employees are concerned not having someone around to clear away confusing can be a daunting experience.
AI-powered chatbots can take care of this issue, by helping the recruits access all the necessary information whenever they need from anywhere, they can get the contact information, guidelines without constantly nagging the HR personnel. The onboarding process becomes faster, efficient, and less daunting for all.
Employee retention becomes easier
HR is not just about recruiting new talent, they are entrusted with the responsibility of nurturing the human assets in the firm. However, for any firm retaining their employees can become an issue and if not managed well they might also have to deal with employee attrition.
So, assessing the employee needs is essential and with smart AI systems in place, the HR team can measure the satisfaction rate, performance of the employees through personalized surveys.
Patterns could be detected in the response to indicate which employees might consider leaving.
The team could act on the findings and make the necessary effort where it's needed to retain an employee. Conversational AI can also help them in keeping track of training progress.


Repetitive tasks could be automated
The HR department has to deal with scores of administrative tasks that require dealing with a huge amount of data and most of these tasks can be dull. AI program can entirely automate the tasks such as interview scheduling, and help the HR team focus on something productive. They can focus the time on strategizing for the future. Automation not only saves time but also adds efficiency to the whole process.
In the field of recruiting there have been some interesting development due to AI and HR collaboration. Let's check out a couple of these platforms
TextRecruit: It helps with both recruiting and onboarding process
ARYA: Employes machine learning to find the best candidates for employers
Restless Bandit: It is a bot recruiter that is hired by industry leaders like Adidas
Mya Systems: This AI assistant guides the candidates to better their communication with recruiters
The HR industry is opening up, but, due to issues like finance, lack of skill it has not been able to fully utilize the power of AI. Addressing the skill-gap is essential here and that could be done by encouraging workers to take up courses like artificial intelligence certification in delhi ncr.

.