In Indian prisons two thirds of the prisoners are under-trials!
This Monday, the "Prison Statistics India 2015 report" was released by the National Crime Records Bureau (NCRB). And here are the five surprising things that we gathered from the data about the condition of prisons in India. 
Over-population is a problem in prisons as well!
As per the report, overcrowding at the prisons is one of the biggest problems which causes sleep deprivation, poor hygiene and a scarcity of resources among the inmates. As per the principles of human rights, prisoners deserve reasonable space and facilities in the jails.
But the numbers indicating occupancy of the Indian prisons at the end of 2015 is astonishingly high at 114.4 percent.
The map of India below showcases the states with over-crowded prisons in red, while the green ones have properly managed their inmate population.
The numerical highlights on the issue of over-population are as follows:
Dadra and Nagar Haveli is reported to have the highest prison inmate count with 276.7 percent population

Chhattisgarh follows next with prison occupancy at 233.9 percent

Delhi, the Indian capital is also home to a large number of prisoners at 226.9 percent occupancy

Meghalaya follows close at 177.9 percent

Uttar Pradesh also made the list with 168.8 percent occupancy
About two thirds of Indian prisoners are still under trial:
A whopping sixty seven percent of people in the Indian jails are still under trial, this also includes people who have not committed any crime who are currently under trial in the court of law

Amongst the states that are larger in span, Bihar has the largest proportion of under trials at 82.4 percent.

This is followed by Jammu and Kashmir with 81.5 percent

Orissa follows close at 78.8 percent

The percentage of under trials in Jharkhand is 77.1 percent

Delhi has 76.7 percent of under trials
Here are the proportions of prisoners who have been in detention for more than a year: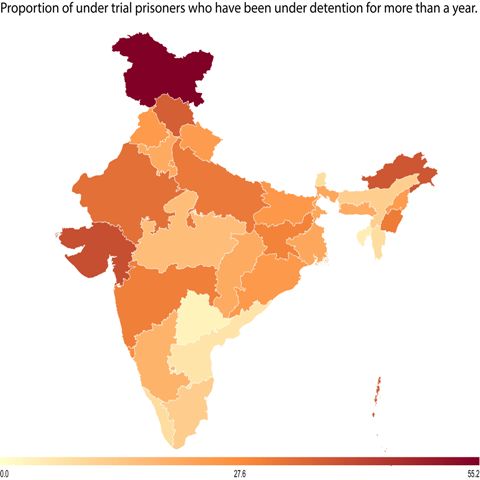 One fourth of all under trials have been detained for more than a year. And the ratio of them is the highest in Jammu and Kashmir:

About four people died everyday on an average in 2015:
In total 1,584 prisoners died on 2015 in the jails. Out of these 1,469 were attributed to natural causes but the remaining 115 were told to have died from unnatural causes.
About two thirds of all unnatural deaths (77) were known to have committed suicide and 11 were even told have been murdered by their fellow inmates. Out of 11, 9 were murdered in Delhi jails itself.
Indian jails are home to several foreign convicts:
Indian jails in the previous year had several foreign convicts lodged in them, of about 2,353 to be precise, by the end of 2015. The most number of foreign convicts were in the jails of West Bengal 1,266, which is followed by the Andaman and Nicobar Islands with 360 foreign convicts, Uttar Pradesh housed 146 foreign convicts, Maharashtra and Delhi had 85 and 81 foreign convicts in total. 
Effect of education on the prisoner profiles:
Out of all the prisoners 76 percent of all the convicts were known to be illiterate or had studied below class tenth.

Capital punishment:
On 2015, more than 100 people were awarded with the death penalty (101) and 49 were committed to life imprisonment sentence.
What does this suggest about the rate of crime in India? Are we moving towards our forecasted dystopia with time…? How much longer will justice be served cold?
Interested in a career in Data Analyst?

To learn more about Machine Learning Using Python and Spark – click here.

To learn more about Data Analyst with Advanced excel course – click here.
To learn more about Data Analyst with SAS Course – click here.
To learn more about Data Analyst with R Course – click here.
To learn more about Big Data Course – click here.