Today is a time when each day is witnessing the field of analytics gets more and more pervasive. It is helping other fields and sectors to achieve more. At a time like this our nation is expected to maintain its ground over other major offshore destinations such as Philippines, China, Eastern Europe and Latin America as per a recent survey.
A host of factors will drive the demand for this service from India. They are – availability of talent pool, industry maturity and a wide spectrum of services which was reported by the survey that was conducted by Avendus Capital which is a financial services company.
The field of Data Analytics uses raw data with extensive use of statistical and quantitative analysis for the purpose of drawing business-related conclusions and to predict business outcomes on time.  The financial sectors along with banking are one of the first sectors to adopt this form of knowledge service and are still the largest users of analytics which is closely followed by the retail, pharmaceutical and healthcare sectors.
The sector of services have been active since the early 2000s but the boom of data generation and reduction in cost of data storage systems has led to an increase for demands of companies who can offer such services. US still stand as the biggest market for data analytics outsourcing but have a shortage of more than 140,000 to 190,000 of professionals which must be fulfilled by 2018. This talent gap will boost demand for analytics outsourcing services. The Indian providers must leverage on this.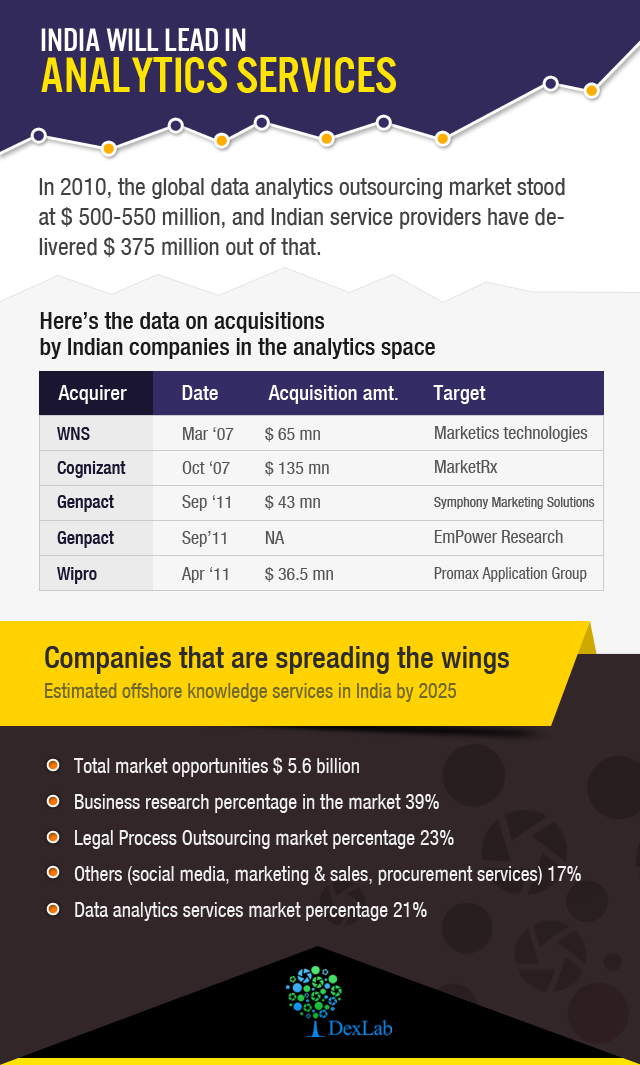 Interested in a career in Data Analyst?

To learn more about Data Analyst with Advanced excel course – click here.
To learn more about Data Analyst with SAS Course – click here.
To learn more about Data Analyst with R Course – click here.
To learn more about Big Data Course – click here.