Being a part of the data awakened generation we acknowledge that data analytics and predictions form an integral part of everything we do. From sole trade predictions to outcomes of famous movie releases to results of sporting events, big data analytics is now the wizardry of obtaining the answers to questions that are still unasked.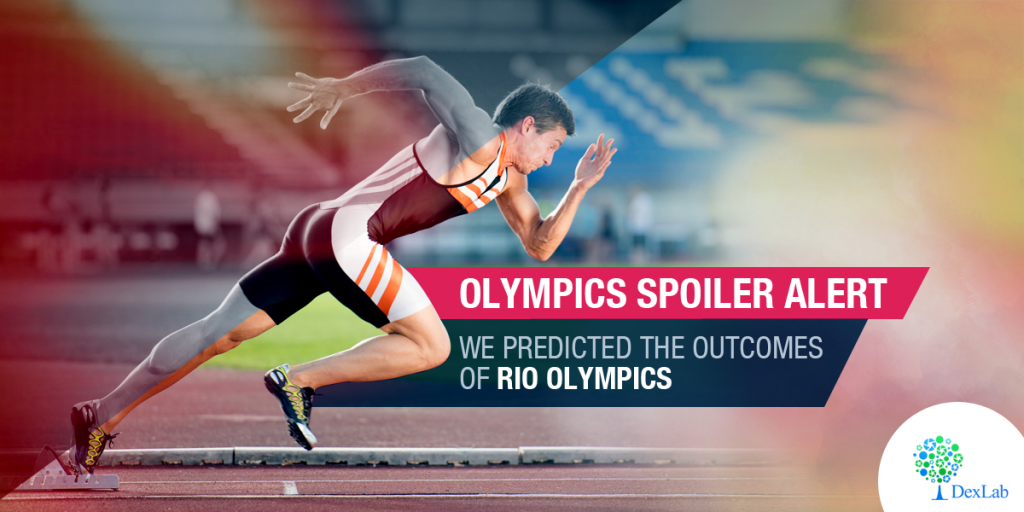 Recently following the ongoing trends, the company Gracenote which is the world's leading provider of entertainment data and is a subsidiary of the Tribune Media Company claimed that they have made accurate predictions of the Rio Olympics outcomes. So, following Gracenote we have also used our sports data analytics expertise to predict which countries and athletes will step up and do well at the 2016 Summer Olympics Games.
Gracenote predicts that team USA will be the winner in the top three top sports, like swimming, gymnastics and athletics. They will bring a total of 31 medals for their athletics, 24 out of them will be for swimming and 8 will be for gymnastics. Team USA will be followed by Australia which will bring home a total of 18 medals of which 1 will be in athletics and 17 in swimming. Kenya will follow close to Australia with 17 medals in athletics.
In the table of forecasted medals Great Britain will be in the 5th position while still having much more medals than Australia in the 4th place but having one less gold. Russia and china will also follow close and the host country Brazil, is predicted to take home 25 medal which will be a new record (total 9 gold ones, 8 silver ones and 8 bronze medals).
They also predicted that the most of the top performing athletes in the Olympics will come from USA or china and Australia. Many of these maybe the perennial top contenders, but there will be some new faces standing on the medal distribution podium surprising the world.
The most notable sportspersons to keep an eye on this Olympic season as per the predictions are:
Katie Ledecky of USA: she has won four gold medals – one for 200m freestyle, for a 400m freestyle, an 800m freestyle and one for 4x200m freestyle
Michael Phelps, USA: has won five gold medals – one for 100m butterfly swimming, for 200m butterfly, one for 200m individual medley, 4x200m for freestyle and one bronze medal for 4x100m freestyle.
Emily Seebohm, Australia: has won three gold medals – one for 100m backstroke, one for 200m backstroke, 4x100m freestyle stroke and one silver medal for 4×100 medley stroke.
Simone Biles, USA: winner of 4 gold medals (beam, floor, team, individual and all-round) and one for vault.
Ma Long, China: winner of 2 gold medals for table tennis singles and team.
Gracenote is the first global procurer of music, sports and video data. They had acquired Infostrada Sports and SportsDirect in May, 2015 and then launched Gracenote Sports which offers rich data on 4,500 of the world's most popular leagues and sports events. Gracenote is also a deep trove of historical Olympics information which goes back to the first ever modern games of 1896.
Interested in a career in Data Analyst?

To learn more about Data Analyst with Advanced excel course – click here.
To learn more about Data Analyst with SAS Course – click here.
To learn more about Data Analyst with R Course – click here.
To learn more about Big Data Course – click here.