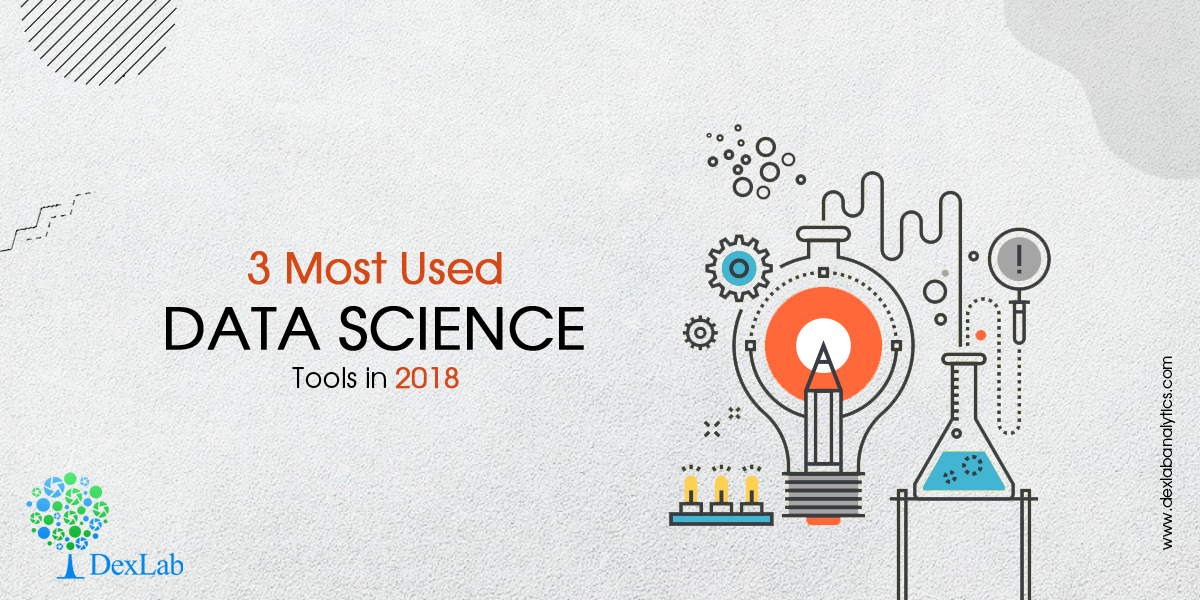 The humongous amount of data calls for advanced data science tools – to completely understand and analyze the information.
Data analytics fuels digital transformation. The best way to do this is by arming an expert pool of statisticians, math pundits and business analysts with suitable data science tools with which they can squelch out crucial insights from the ever-growing silos of corporate data. This kind of initiatives promote a data-driven business culture, which acts as a present prerequisite – and this why here we've jotted down top 3 data science tools that's weaving wonders with the new oil of the world, data:

Python
Both, well-performing software and a powerful programming language perfect for developing custom algorithms, Python is the most must-have tool for all data scientists. In a recent KDnuggets survey of 2052 users, Python language was recommended by 65.6% of respondents.
"We use Python both for data science and back end, which provides us with rapid development and machine learning model deployment," shared Alexander Osipenko, lead data scientist at Cindicator Inc. "It's also of great importance for us to ensure the security of implemented tools."
Leslie De Jesus, innovation director and lead data scientist at Wovenware emphasized on the importance of Python libraries. "[We use] Python Libraries, including Scrapy, for web scraping and being able to extract data from the internet and upload it into a data frame for analysis," said De Jesus.
Few others vouched for Python because of its multifaceted nature and strong optimization skills.
For Python Certification Training in Delhi, drop by DexLab Analytics.
R
Quite similar to Python, R is the go-to programming language for many data scientists and they depend on it wholly because it's simpler and more specifically-built for data science. According to the KDnuggets poll, 48.5% respondents voted it to be one of the leading data science tools.
As for all, R programming language is blessed with cultivated capabilities for machine learning and statistics, and professionals love using it. It's another favorite of data analysts, especially those who deals with a lot of data exploration.
"I can quickly see summary stats like mean, median and quartiles; quickly create different graphs; and create test data sets, which can be easily shared and exported to CSV format," said Jon Krohn, chief data scientist at Untapt Inc.
Seeking R language certification in Delhi? We have DexLab Analytics for you!
Tableau
Bridging the gap between skilled data science teams and more business-oriented analytics consultants, Tableau Software is the fastest data visualization and dashboard tool. "It is a fantastic tool for data scientists and noobs working on data science," said Pooja Pandey, senior executive for SEO at Entersoft Security. "[It's a] quick dashboarding tool to visualize insights and analytical data with a very short learning curve."
The lightening speed of Tableau's visualization and reporting functions is commendable. It's easy to learn, quick to implement and intuitive to use. Moreover, it helps different segments of a company to customize exhaustive reports according to their requirements.
Now, if you are looking for ways to hone your visualization skills, we would recommend Tableau BI training courses from DexLab Analytics. Their training courses are comprehensive, well-research and as per industry standards.
The blog has been sourced from — searchbusinessanalytics.techtarget.com/feature/Data-scientists-weigh-in-5-data-science-tools-to-consider
Interested in a career in Data Analyst?

To learn more about Data Analyst with Advanced excel course – Enrol Now.
To learn more about Data Analyst with R Course – Enrol Now.
To learn more about Big Data Course – Enrol Now.

To learn more about Machine Learning Using Python and Spark – Enrol Now.
To learn more about Data Analyst with SAS Course – Enrol Now.
To learn more about Data Analyst with Apache Spark Course – Enrol Now.
To learn more about Data Analyst with Market Risk Analytics and Modelling Course – Enrol Now.