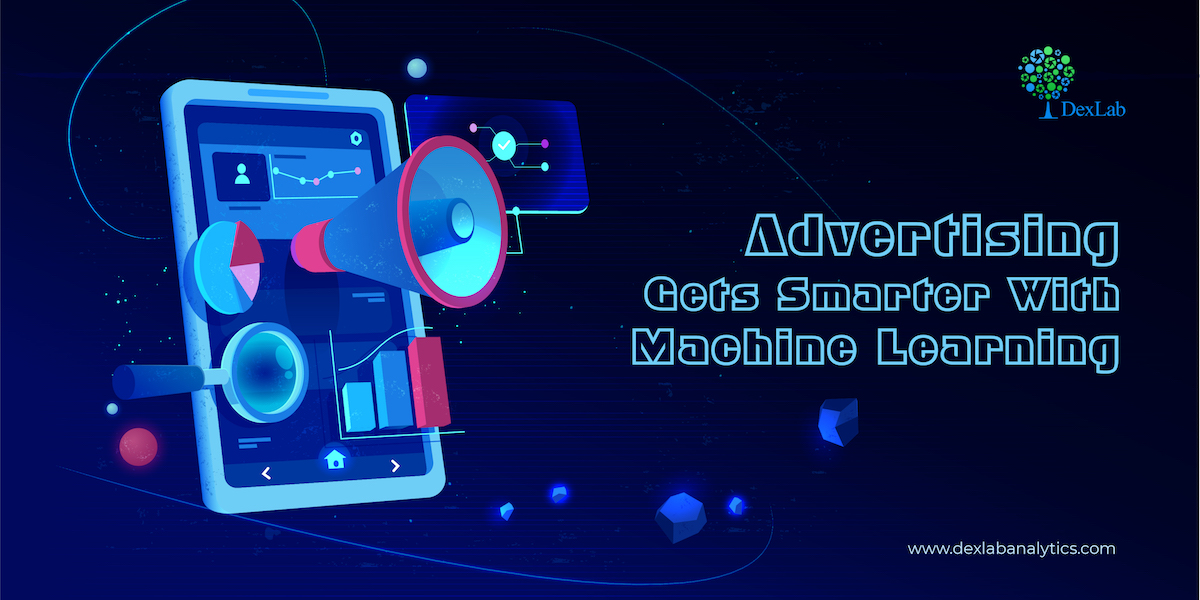 Every single day we get deluged by advertising messages in many formats. From your morning newspaper to Youtube to Facebook, there is hardly a platform left that is not getting utilized by smart marketers. After all, advertising is a powerful marketing tool with the power to sway opinions in favor or, against, and careful planning and placement play a crucial role in making an ad click with the target audience. The digital era has opened up multiple avenues for the advertisers but, it has also posed new challenges for them.
To stay ahead in the game advertisers have been quicker to recognize the potential of integrating advanced technology such as Machine Learning to optimize their ad campaigns. ML algorithms can process data and analyze patterns to offer predictions that in turn helps marketers fine-tune their marketing strategies.
Google AdWords is a case in point that has incorporated machine learning to leverage their ad game. Marketing professionals now should upskill themselves with Machine Learning course in Delhi, to ensure seamless integration of this technology into advertising.
How ML is benefiting the advertising industry?
ML can boost ad performance
Incorporating machine learning techniques can reduce the time, labor, and amount of error that go into processing data to identify factors that when tweaked could positively influence your ad performance.  Machine learning not only automates the task but, also comes up with several solutions keeping your goal and budget in mind as well as other significant criteria. With time the more data get fed into the system the more accurate results could be expected. 
 Ad Creatives get better
 Creative ads draw more attention, a catchy headline, slogan or, visual or, the combo of all these elements coupled with others contribute to making an ad a roaring success and in turn, boosting a product or brand image. Now, one might wonder what algorithms have to do with creative thinking which is completely a spontaneous affair, but, ML might be of help in here. Before investing money in designing creatives, use ML to assess past campaigns to measure all the elements and offer insight regarding imagery, color, font style, size, messages, and other factors. Furthermore, different personality types react differently to a given message, so gaining an insight into that behavior pattern is vital before delving into designing.
Be more relevant and relatable
Advertising is all about delivering the message to the targeted audience, but, instead of just sorting through random survey data to identify groups, using ML to go deeper into the process can create a big impact on the results. Using ML techniques social media interactions of people could be parsed to identify areas that interest them, people that influence them, and so on. Another factor that matters here is to identifying the right combination of time and platform to reach your target audience to make the maximum impact, ML algorithms enable you to do all of that.
Better segmentation
While designing any ad campaign, the marketer needs to identify the segment they are targeting. Instead of applying age-old methods that only scratch the surface, smart algorithms can dive in to help you be more specific about your segments and not just that but it could also identify that layer of audience hidden in the data who normally do not come under your segmentation, but has the potential to convert into paying customers if approached.


Predict campaign results
Implementation of ML can ensure that you get to test the success or, failure of your campaign even before it hits the viewers. Assessment of previous campaigns coupled with customer data using ML techniques can give you an idea regarding the performance of your campaign. It allows you to rectify or, revise any strategy that might sound or, look iffy. It can also help you make smart media buying decisions and point you towards platforms that you didn't consider in the first place.
The field of advertising is deriving huge benefits from incorporating ML technology. However, choosing the right tool that works best for the specific needs of a campaign is essential. Another factor is having trained employees with a background in Machine Learning Using Python, is essential as they would be in charge of implementing and monitoring the technology.

.