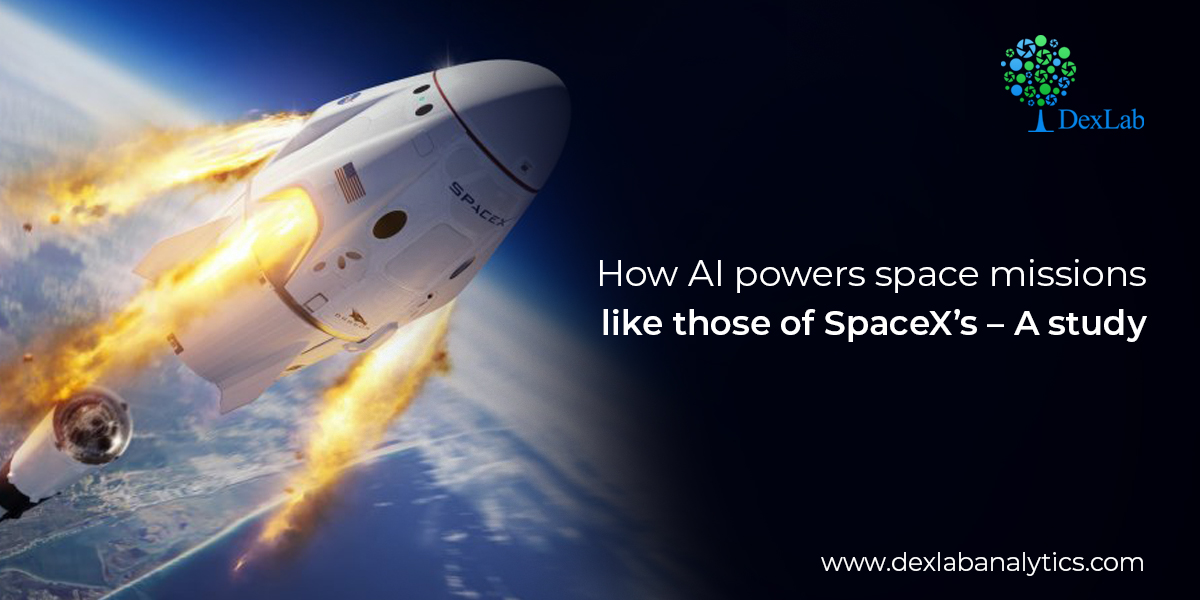 On May 30, 2020 a SpaceX Falcon 9 rocket carrying Crew Dragon was launched at 3:22 p.m. US Eastern Time from the Kennedy Space Center, this being the first time a space mission was launched by NASA since it decommissioned its ageing and unsafe Space Shuttle fleet in 2011. The rocket was successful in deploying the vehicle into orbit and safely returning to Earth.
The mission
Aboard the Crew Dragon are astronauts Bob Behnken and Doug Hurley who are to be launched into the International Space Station. The mission marks the first time a private company has pulled off a crewed mission into low Earth orbit, a report said. The Crew Dragon and its self-landing, reusable Falcon 9 rocket is owned by SpaceX, who's founder and CEO is Elon Musk. NASA just rents the spacecraft and the rocket at a cost of around $55 million per passenger, said another report.
AI in SpaceX's mission
But did you know this historic mission is powered by the cutting edge technology of artificial intelligence? Yes! A sophisticated AI autopilot steers the cone-shaped Crew Dragon that is on its way to the ISS. Once the Crew Dragon reaches within 60 feet of the space station, the astronauts will maneuver the vehicle to the ISS and remain in space for weeks on end, depending on when they are called back. In 2018 too, a SpaceX rocket flew into space with the first robot powered by artificial intelligence.
AI in Indian space missions
India too has been generating indigenous AI technology to power its space missions. Take for example its Chandrayaan-2 mission that was launched in July 2019. Scientists integrated AI technology with Chandryaan-2's rover – Pragyan. A report said, the Indian Space Research Organisation delivered Pragyan – a solar-powered robotic vehicle that was to explore the lunar surface on six wheels. Moreover, "the artificial intelligence algorithm could also help the rover detect traces of water and other minerals on the lunar surface."
How AI powers space exploration
AI helps analyze the huge amounts of data emanating from space exploration and this helps advance space exploration with each passing day. Moreover, AI is making it possible for rovers currently roving the atmosphere of Mars to take decisions independent of the mission. The NASA Curiosity rover can dodge obstacles on its route by itself and determine the best route possible. Data received from space is mainly in the form of images that are studied through machine learning techniques at the NASA Frontier Development Lab that has roped is the services of tech giants like IBM and Microsoft.
Infact, machine learning is helping in solar storm damage detection, atmosphere measurement, and determining the 'space weather' of a given planet through the magnetosphere and atmosphere measurement. Reports say the same technology is used in resource discovery in space. Moreover, AI applications "can optimize planetary tracking systems, enable smart data transmission, and nullify the risk of human error (by using predictive maintenance)," said this report.


So artificial intelligence is finding advanced applications is all sectors of the economy and it is clearly becoming indispensable to our lives. In India, institutes are trying hard to inculcate the science of artificial intelligence in the Indian workforce, an effort that is directly resulting in the founding of a great many challenging courses like artificial intelligence certification in Delhi NCR.

.