Back in the days of yore, parents would tell their kids that if you do not eat your veggies or study hard then your friends will be doctors, lawyers and bankers and you would have to cut grass!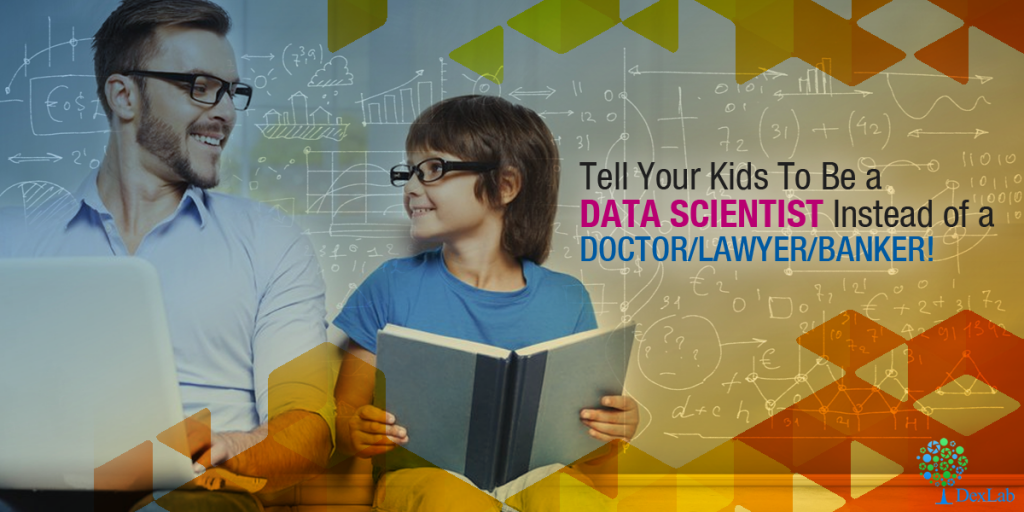 My parents also told me to work hard and get good grades so that one day I become a successful doctor/engineer! But now times have changed and while the definition of true success may differ from one person to another. The title of a truly successful professional surely has seen a paradigm shift.
Nowadays matchmaking websites and classified ads of the newspapers are no longer flashing taglines of a successful engineer or MBA looking for a bride! They are now more inclined towards the professionals with the "sexiest job role of the 21st century" – Data Scientists.
It is no longer breaking news that Big Data is in actuality the next big thing. It is the key driving force behind achieving competitive advantage and for increasing profitability for different businesses regardless of their volume, be it big or small. The megatrend of data analysis and the impact it has on business decision making has increased the demand for employees with analytical know-how by manifolds thus, highly popularizing career paths that lead to big jobs under the Big Data banner.
The Managing Director and founder of Burch works U.S Linda Burch stated, with the growing demand for employees with quantitative and analytical skills the recruitment of quants (data analysts) are also increasing day-by-day in key decision-making roles. More and more data personnel are being hired to drive the profitability of businesses as per Linda.
Big Data equals Big Money!
It should not come as a surprise to people that Big Data offers Big Money.
As per a survey conducted by Burch Works, of the salaries of data scientists in 2014, they found that people who had degrees from universities in quantitative fields of study, who are also comfortable working with programming languages along with statistical analysis have a median salary of USD 80,000 for those who work as a part of the team and have 0-3 years' of experience. And for those with experience above 9 years are paid around, USD 150,000.
The median salaries for people in managerial roles with data are even higher. People who manage a team of data analysts consisting of 1 to 3 people are paid the median salary USD 140,000. Managers who manage an even bigger team of 10 people or more earn a median salary of USD 325,500.
Comparing this median salary to those with lawyers in America which is USD 131, 990 as of 2013 and doctors earned USD 183,940 as per the data retrieved from the U.S Bureau of Labor Statistics. It is evident that the median salary of a data scientist is much higher and has gained momentum much quicker.
The market scenario for data scientist jobs:
Those with skills in Big Data are highly in demand. A per a study conducted in 2011 by Mckinsey Global Institute that by 2018 they will be a requirement of 4 million big data related positions in U.S. these people must possess analytical and quantitative skills. But there will be a shortfall of about 1.5 million data savvy personnel of the managerial level and the analysts to fill up these positions.
There is still a whopping shortage in the supply of data savvy managers as most clients of headhunting companies suggest that, there aren't ample candidates for hiring.
The demand for data scientists is so high, that a report revealed that people with the requisite skillset (89%), in the first half of 2013 were contacted via LinkedIn at least once in a month. 25 percent of them even said that they were contacted weekly!
Have you got what it takes?
Typically job roles in data science require more advanced skills than any other job profiles in Big Data, thus it requires more experience, better degrees and strong background in computing. But more importantly, in addition to analytical skills companies also prefer candidates who have a strong sense of curiosity and high business acumen along with impeccable communication skills.
For more information on analytics courses in Delhi get in touch with the experts at DexLab Analytics.
Interested in a career in Data Analyst?

To learn more about Data Analyst with Advanced excel course – click here.
To learn more about Data Analyst with SAS Course – click here.
To learn more about Data Analyst with R Course – click here.
To learn more about Big Data Course – click here.