Recently a world's top magazine crowned the job role of Data Analyst as the sexiest job of the 21st Century. But there is still much confusion as to why this title is so much in demand in the job market presently and what makes it such a desirable gig. So, we would like to take this opportunity to describe in detail what the job role of data analysts entail, why is it so much in demand, what can an aspiring data analyst expect in this job, what are the payment packages and what the future holds for this breed of pseudo-scientists.
What does a data analyst do?
Every business collects numerous numbers and the job of a data analyst or a data scientist is to translate these mind-numbing numbers and figures into plain English, so that every other average Joe involved in the business will be able to understand and comprehend and take actionable steps to address the situation.
Data personnel takes all the numbers collected by the business autonomously and use it to help the organization make better more goal-oriented business decisions. This can be used in a variety of functions like determining the price of a new product in the market, figuring out how to reduce cost of transportation, address issues that are costing money to the company and even determine working hours, strategies and business plans.
A data analyst is still a broad term that encompasses several types of data analysts like operations analyst, financial analyst, marketing analyst and more.
How much do data analysts make to be the sexiest workers in the industry?
The payment package depends highly on the experience of the personnel and the type of data analysis carried out by them as well as the industry where they function. The job profile does involve meticulous research, analytical calculations, collaborating with other departments and explaining the outcomes of the analysis to them in simpler terms, but the job also comes with other perks that may vary with different organizations and the job location. But the most common of them are, a corporate culture, flexibility with work schedules, quality office conditions and more often than not a brilliant peer group of fellow scientists and IT experts.
To know more about the salary structure associated with different analytics positions view our infographic below: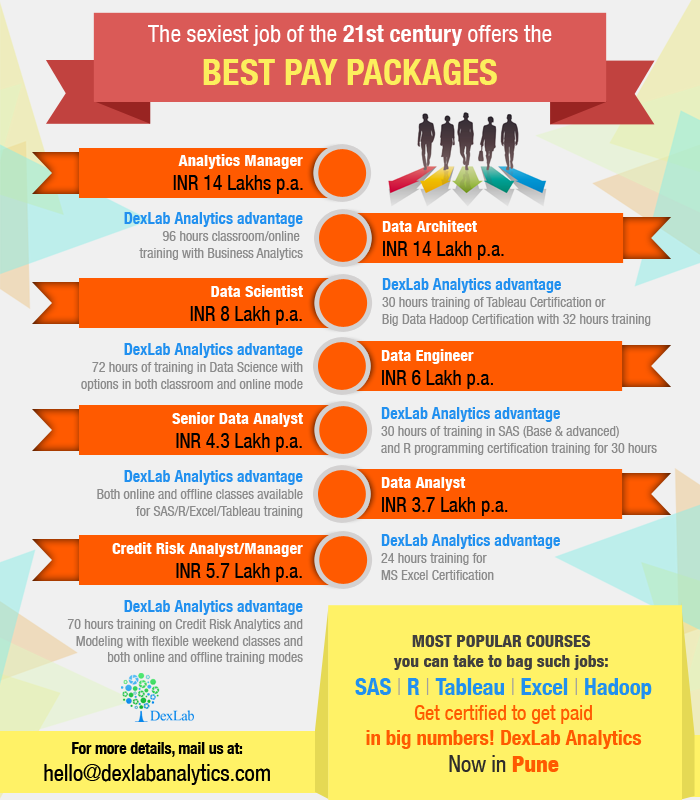 Educational requirements for being a data analyst:
For most entry level a bachelor's degree is necessary and for higher level jobs one must possess a master's degree in a field like Statistics, Mathematics, Computer Science or Finance. Whatever may be their background a degree, diploma or certificate is absolutely necessary in the data analysis and proficiency in using tools like SAS, R Programming, Excel, Hadoop or Tableau is essential.  One can also get certification depending on the field one chooses to go into.
Skill requirements for job:
Ability to work with large sets of data including facts, figures and numbers. Must be proficient in number crunching. Ability to see through data and analyze it to draw meaningful and actionable conclusions.

Ability of critical thinking: able to come to conclusions based on observations of trends, facts, figures and data.

Must possess above average math skills

Must have a keen eye and should be proficient in giving attention to detail to be vigilant for coming to analytical conclusions.
If you are a truly ambitious person then this is a career option to work towards. So, equip yourself with the necessary knowledge today.
Interested in a career in Data Analyst?

To learn more about Data Analyst with SAS Course – click here.
To learn more about Data Analyst with R Course – click here.
To learn more about Big Data Course – click here.