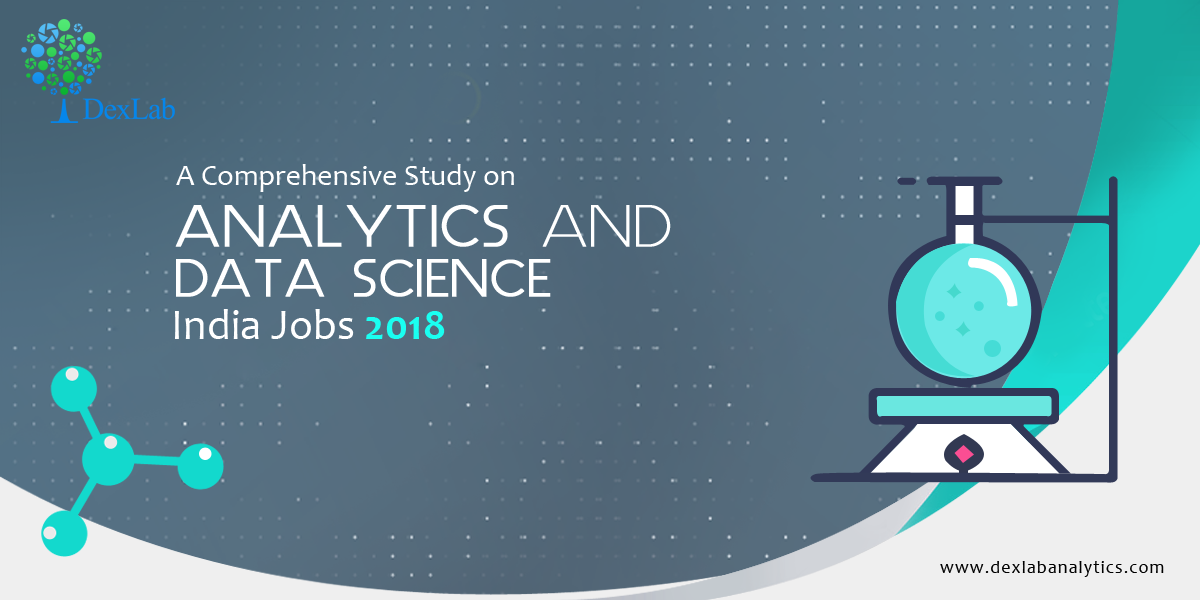 India accounts for 1 in 10 data science job openings worldwide – with about 90,000 vacancies, India ranks as the second-biggest analytics hub, next to the US – according to a recent study compiled by two renowned skilling platforms. The latest figure shows a 76% jump from the last year.
With the advent of artificial intelligence and its overpowering influence, the demand for skill-sets in machine learning, data science and analytics is increasing rapidly. Job creation in other IT fields has hit a slow-mode in India, making it imperative for people to look towards re-skilling themselves with new emerging technologies… if they want to stay relevant in the industry. Some newer roles have also started mushrooming, with which we are not even acquainted now.

Top trends in analytics jobs in 2018 as follows:
The total number of data science and analytics jobs nearly doubled from 2017 to 2018.

There's been a sharp contrast in the percentage increase of analytics job inventory in the past years – from 2015 to 2016, the number of analytics jobs increased by 52%, which increased by only 40% from 2014 to 2015.

Currently, if we go by the reports, nearly 50000 analytics job positions are currently available to get filled by suitable candidates. Although the exact numbers are difficult to ascertain.

Amazon, Goldman Sachs, Citi, E&Y, Accenture, IBM, HCL, JPMorgan Chase, KPMG and Capgemini – are 10 top-tier organizations with the highest number of analytics opening in India.
City Figures
Bengaluru is the IT hub of India and accounts for the largest share of the data science and analytics jobs in India. Approximately, it accounted for 27% of jobs till the quarter of the last year.
Tier-II cities also witnessed a surging trend in such roles from 7% to 14% in between 2017 and 2018 – as startups started operating out of these locations.
Delhi/NCR ranks second contributing 22% analytics jobs in India, followed by Mumbai with 17%.
Industry Figures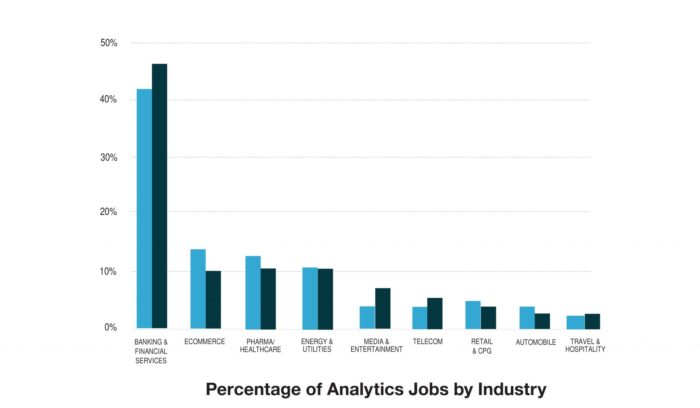 Right from hospitality, manufacturing and finance to automobiles, job openings seem to be in every sector, and not just limited to hi-tech industries.
Banking and financial sector continued to be the biggest job drivers in analytics domain. Almost 41% of jobs were posted from the banking sector alone, though the share fell from last year's 46%.
Ecommerce and media and entertainment followed the suit and contributed to analytics job inventory. Also, the energy and utilities seem to have an uptick in analytics jobs, contributing to almost 15% of all analytics jobs, 4% hike from the last year's figure.
Education Requirement Figures
In terms of education, almost 42% of data analytics job requirements are looking for a B.Tech or B.E degree in candidates. 26% of them prefer a postgraduate degree, while only 10% seeks an MBA or PGDM.
In a nutshell, 80% of employers resort to hiring analytics professionals who have an engineering degree or a postgraduate degree.
As a result, Data analyst course has become widely popular. It's an intensive, in-demand skill training that is intended for business, marketing and operations managers, data analyst and professionals and financial industry professionals. Find a reputable data analyst training institute in Gurgaon and start getting trained from the experts today.
The article has been sourced from:
https://qz.com/1297493/india-has-the-most-number-of-data-analytics-jobs-after-us
https://analyticsindiamag.com/analytics-and-data-science-india-jobs-study-2017-by-edvancer-aim
Interested in a career in Data Analyst?

To learn more about Data Analyst with Advanced excel course – Enrol Now.
To learn more about Data Analyst with R Course – Enrol Now.
To learn more about Big Data Course – Enrol Now.

To learn more about Machine Learning Using Python and Spark – Enrol Now.
To learn more about Data Analyst with SAS Course – Enrol Now.
To learn more about Data Analyst with Apache Spark Course – Enrol Now.
To learn more about Data Analyst with Market Risk Analytics and Modelling Course – Enrol Now.