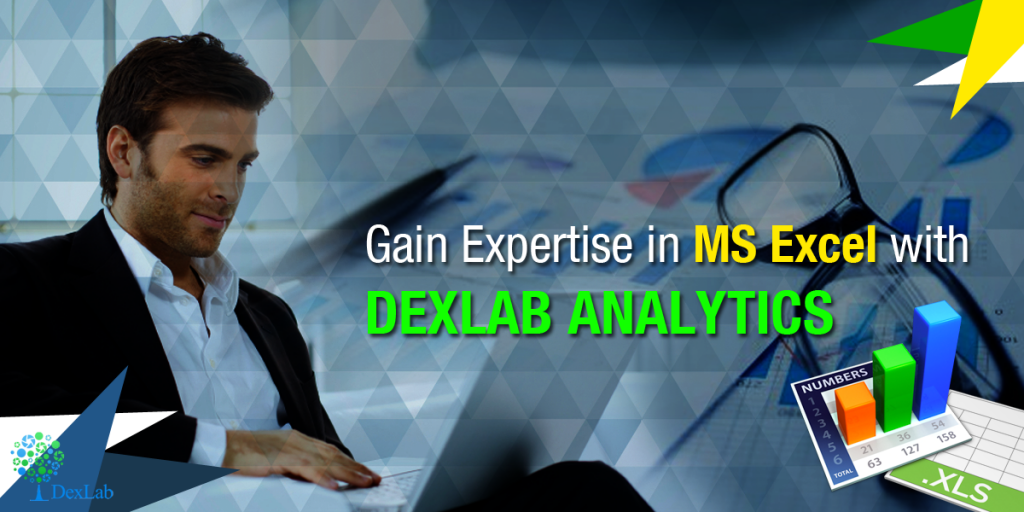 MS Excel needs no introduction as spreadsheet program. As part of the MS Office suite it has been a regular software skill expected from employees across the globe regardless their roles or levels. But the utility of MS Excel in the world of Big Data is not so widely acknowledged due to the lack of awareness. But that does not rob it of any of its sting as a Big Data tool to advanced Excel users.
So if you are keen to know more about the emerging technology that elite techies cannot stop raving about, a solid grounding in MS Excel will serve you well. Accordingly DexLab Analytics has scheduled a symposium on the topic of Designing MS Excel Dashboards as an introduction to the Big Data capabilities of Big Data to aspiring data analystand data scientists. The symposium is going to be MS Excel Experts who also instruct students of DexLab Analytics most of whom have been advanced users of MS Excel for more than a decade.
The main speaker of the symposium is an industry expert who is currently attached with a leading Multi-National Company for over 5 years. He will bring with himself invaluable information regarding the latest developments in data science. We will cover the following topics in the meet scheduled to be held on the 26th of January:
 MS Excel functions overview like V Look Up, Match, H Look Up, Address, Match, Countlfs, Indirect, Sumlfs amongst many others.

 Introducing the world of recording macros and building VBA.

Introducing Advanced Excel with abilities in Dynamic Referencing and pivot.

Hot to make use of Excel and VBA in order to generate KPI dashboards.
The interactive session with industry professionals with many years of experience and help you acquire invaluable exposure to the basics of MS Excel so that you get a foretaste of what lies in store for you in this new and exciting world called Big Data.
Note: It is assumed that the participants of this event have a basic understanding of the rudiments of statistics.
Looking for an Advanced excel training in Gurgaon? Drop by DexLab Analytics – their Excel dashboards training is unparalleled!
Interested in a career in Data Analyst?

To learn more about Data Analyst with Advanced excel course – Enrol Now.
To learn more about Data Analyst with R Course – Enrol Now.
To learn more about Big Data Course – Enrol Now.

To learn more about Machine Learning Using Python and Spark – Enrol Now.
To learn more about Data Analyst with SAS Course – Enrol Now.
To learn more about Data Analyst with Apache Spark Course – Enrol Now.
To learn more about Data Analyst with Market Risk Analytics and Modelling Course – Enrol Now.