Last year was the year, which saw artificial intelligence, went mainstream.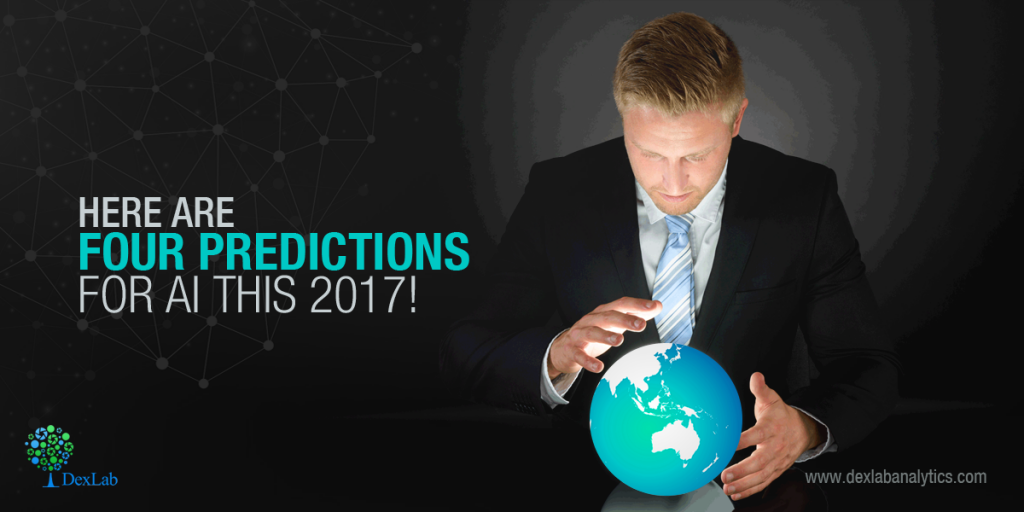 By that, we do not mean just getting filtered raunchy photos on Twitter or getting the fake news suggestions on Facebook.
Here is what to look for in Artificial Intelligence for this New Year:
Driven by unprecedented financial support (along with a growing open source ecosystem), founders have been delivering artificial intelligence start-ups at a record high rate.

GE, Google, Intel, Microsoft, Facebook, Apple, Salesforce and Samsung, and several other name brands made rigorous AI investments last year.

There are now five million homes, which, are talking about their music and shopping choices with the help of Alexa from Amazon.

There is a whole new department of U.S. Department of Transportation Committee for self-driving cars. Even a few years ago, there were people talking about 2025 or so for the accessibility of self-driving cars (of level 5 autonomy), but this is a reality now, much before we could reach 2020. It is also amazing to think that self-driving cars may whittle down the 1.2 million annual deaths from automobiles.

Also in other interesting news, two AI unicorns just grew their horns, the Cylance in Silicon Valley and iCarbonX in China.

Also more than one-fifth of the MIT 50 smartest companies list, include AI as a core approach these days.
Welcoming Artificial Intelligence to our homes:
In the middle of this hype, how can we understand how AI affects our daily lives? Here are a few important predictions about whichever direction AI is heading in 2017, to help one bring some hyperbole down their homes.
The battle between jobs vs. AI:
There is no two ways about the fact that AI approaches can eliminate some sectors of jobs that, now require human hands. Already places like Port Botany in Sydney exists which, are human-free zones where thousands of shipping cartons are managed by AI-informed robots.
Take up a course on Machine Learning Using Python to be a part of this AI-led revolution.
But AI will also help to create new jobs in the market:
As per Accenture Research, artificial intelligence is the new super power within the economy. Instead of just eliminating jobs, it will also boost productivity up by 40 percent and also double the annual growth rate for the developed countries.
And for upcoming years, we predict that the increasing need for humans to be in the loop will be growing to much higher rate than the rate at which jobs will be eliminated.
There will be people needed to work with AI for things like:
Validating the results of AI

Getting the data for machine learning, and

Building a design system
Moreover, they will also need personnel in data science along with updated regulations and ethics, which will produce dozens of categories for new interesting jobs.
To sum things up, as per the White House Report on AI take-away which we require to make technical learning an important need of the hour is something we can put to work right away.
You can take a machine learning training course with us at DexLab Analytics, to join this Artificial Intelligence bandwagon. Now we are also in Pune to make our Machine Learning training accessible to more people.
Interested in a career in Data Analyst?

To learn more about Machine Learning Using Python and Spark – click here.
To learn more about Data Analyst with Advanced excel course – click here.
To learn more about Data Analyst with SAS Course – click here.
To learn more about Data Analyst with R Course – click here.
To learn more about Big Data Course – click here.