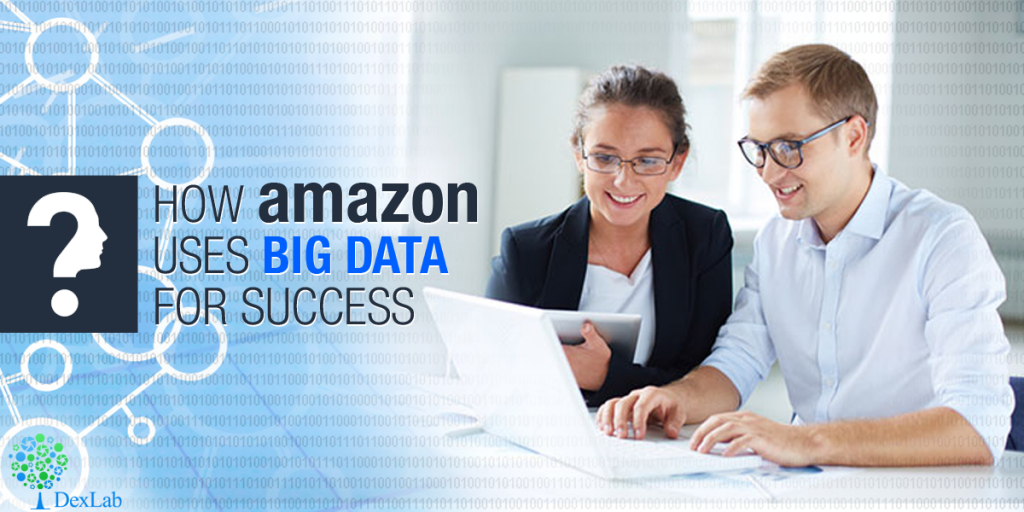 Taking a stroll around the lanes of Big Data is no cake walk. The main problem being that well, Big Data is big to tackle and on top of that complex to analyze and draw insights from. That is why the world needs more data analysts. Also the many nuances of Big Data architecture make it especially difficult for the concerned personnel to grasp its requirements. Also the concept is relatively new there is a lack of understanding and experience in the field of Big Data which is often the management of major corporations misuse their Big Data.
The best way to learn about how you can use your company's Big Data effectively is by paying a close attention to how other companies have used their data and by effectively implementing similar practices. One such company who has done so is Amazon.com.

There is no hint of doubt about the data expertise of Amazon.com as it is one of the key innovators in the realm of Big Data technology. This is a giant that has given us a great idea on how to collect, analyze and then successfully implement data analytical reports. Moreover, in addition to using Big Data successfully for its own purpose the company has also leveraged its own data usage tools for helping others with tools like Amazon Elastic MapReduce.
Amazon has taught us several lessons on how to successfully implement Big Data to amplify revenue generation:
Get your eyes on the customer:
The premier uses of Amazon's Big Data are with its customer recommendations. If one has an Amazon account they use on a regular basis then you will notice that all the recommendations on your homepage are based on your browsing history. Everything including sale items to special discount offers is based on your previous purchases and your product browsing history. Now you may argue that even several other sites including the whole of internet works like that, but while they might a frequent occurrence today Amazon was among the first ones to start this trend.
It was one of the first organizations to provide its customers with a focused and personalized buying recommendation that made them buy more. Who knew the best way to make people buy more than they want was just to tell them that with an enticing deal?! This solution is a simple one and works for several problems.
This is the best lesson that Amazon has taught the business world. For any business to succeed and to use Big Data well the main focus should be on the customers. If your customers are happy then you will be better off at your business. That is the basic rule of thumb when it comes to business after all.
Sniff out all the data you can:
This retailing giant uses Big Data gathering tools and uses it to the best of its advantages. The company gathers a lot of data by the hour or better put by the second. So, it might be easy to lose focus on why data is being gathered and which type is necessary or how it can be useful to the customers. But this company does not let those parts slide. The company gathers and analyzes its data diligently and never fails to upgrade its workings with the findings.
Big Data has worked for Amazon now make sure it works for you take Big Data courses to better handle your data.
Interested in a career in Data Analyst?

To learn more about Data Analyst with Advanced excel course – Enrol Now.
To learn more about Data Analyst with R Course – Enrol Now.
To learn more about Big Data Course – Enrol Now.

To learn more about Machine Learning Using Python and Spark – Enrol Now.
To learn more about Data Analyst with SAS Course – Enrol Now.
To learn more about Data Analyst with Apache Spark Course – Enrol Now.
To learn more about Data Analyst with Market Risk Analytics and Modelling Course – Enrol Now.