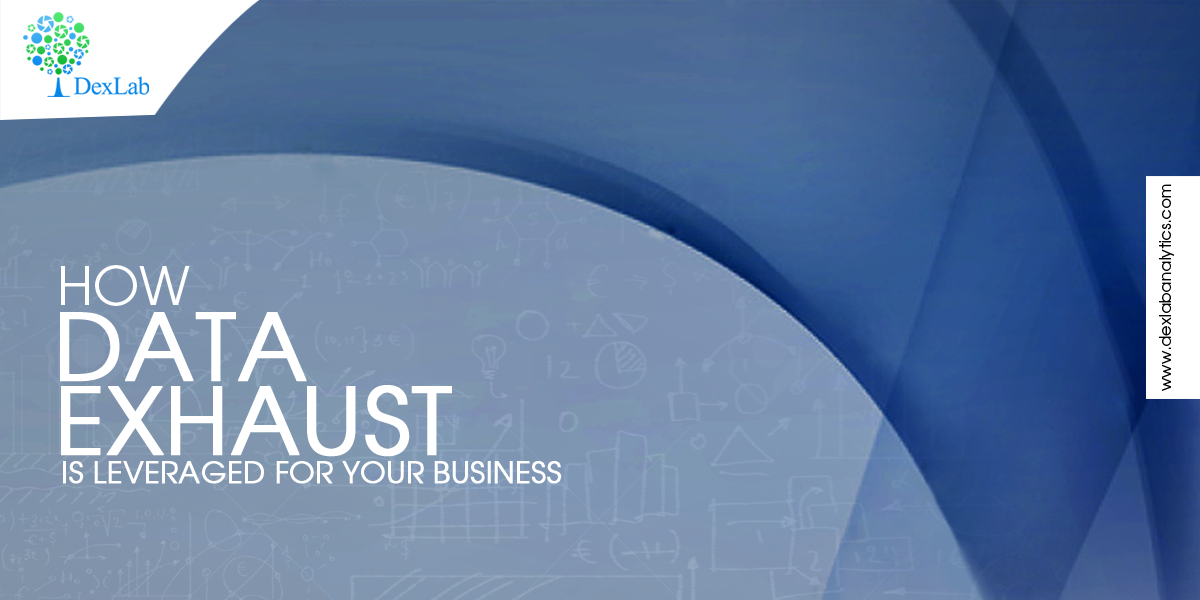 Big data is the KING of corporate kingdom. Every company is somehow using this vital tech tool; even if they are not using it, they are thinking of it.
A 2017 survey says, around 53% of companies were relying on big data for their business operations. Each company focuses on a particular variant of data. Some of the data types are considered most important, while others are left out. Now what happens to the data that is kept aside?
Data exhaust can be a valuable addition for a company – if leveraged properly.
Explaining Data Exhaust
It entirely deals with the data that is leftover but produced by the company itself. Keep in mind, when you try collect information from a specific set of data, a whole lot of information is also collected at the same time. So, many organizations might be sitting on a gold mine of data but without acknowledging the importance of that data. In instances like this, data exhaust can be very helpful across numerous business development channels.
Market Research
The best way to use data exhaust is through extensive market research. Know your audience is the key. Customers are crucial for effective marketing and product development. Nevertheless, the former involves manual research as well as analytical research, which once again leads us to analytics.
Through data exhaust, you get to know everything your customers do on your website – thus, can understand what they like better.
Cyber Security
As a potent threat, cyber crime results into potential costs to businesses all across the world. So, what role does data exhaust play? At best, it can help determine risk across different databases to develop superior cyber security plan.
Product Development
Importantly, businesses work on a plethora of projects at the same time. As a result, the issue of time crunch pops up. No one can do everything all at once, and data exhaust helps in sharpening whatever is important. Like, if your excess data says that most of your viewers visit your site through mobile device, it's better to develop a mobile app to serve the customers better.
All Data Is Not Important
All data is not useful. Though data exhaust is useful, yet there would be times when you will come across bad data. You need to shed off those data, and get rid of data of that manner that is meaningless. Ask data experts which data to keep and which is irrelevant. Data that is of no use needs to be destroyed, because a company cannot keep trash for long.
Be Responsible for Data
Its clear data exhaust is all good and great for business, but it's always suggestible to be cautious and responsible. There can be many legal implications, hence its suggestible to consult a data professional who have the desired know-how, otherwise things can get a bit complicated.
In this world of competitive technology, businesses have to be very careful about how they are using data to avoid any kind of negative outcomes. Be responsible and use data correctly; big data help frame a highly effective business strategy.
Looking for good big data courses? We have good news rolling your way – DexLab Analytics offers excellent big data training in Gurgaon. If interested, check out the course itinerary RN.
The blog is sourced from – http://dataconomy.com/2018/03/how-data-exhaust-can-be-leveraged-to-benefit-your-company
Interested in a career in Data Analyst?

To learn more about Machine Learning Using Python and Spark – click here.

To learn more about Data Analyst with Advanced excel course – click here.
To learn more about Data Analyst with SAS Course – click here.
To learn more about Data Analyst with R Course – click here.
To learn more about Big Data Course – click here.