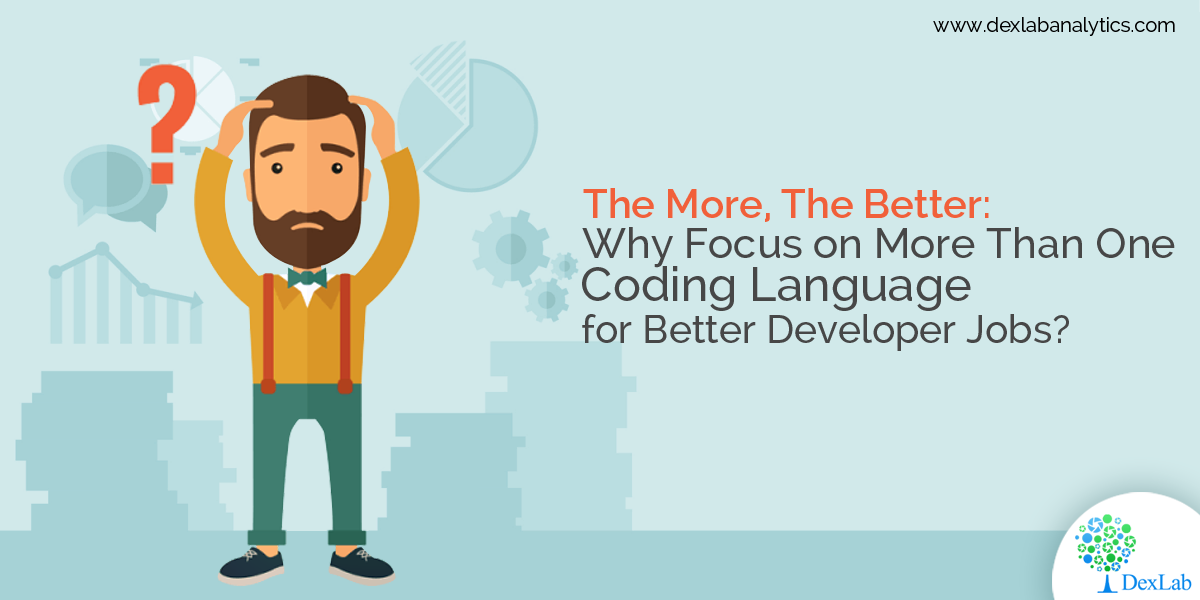 Attention all you developers: Be versatile, be ahead of the curve.
Excelling over just one programming language won't do any good, and will restrict your career pathway. On closer inspection, you'd find that the top 25 Forbes listed companies never rely on a single coding language for their products and services – instead they prefer on applying at least 4 different languages to always be on edge.
Technology is emerging out at an exploding pace, where every year a new coding language is being introduced to keep up with the rapid innovation trend. Trust me, there exists more than 500 programming languages at this moment, and the numbers are increasing steadfastly. Companies like Shutterstock that once were devoted to a single language (Perl) are now focusing on being Multi-Lingual backed by an expert team of developers that grasps the intricacies of cutting edge programs in PHP, Python, Node.js, Java, Ruby and Objective-C. Learning multiple languages is not a privilege anymore, but a widely prevalent norm.

Software development is constantly on an upgrade-mode. Each day, it shifts its focus on something else, something more advanced, more productive. Each year, many languages live and die, and developers have to constantly keep pace with all the changes around, coupled with re-sharpening their own skills to imbibe newer and more advanced ones that help them remain relevant in their respective job field.
In a press release, Speros Misirlakis, Coding Dojo's head of curriculum said "Much like any tool or application, companies use different coding languages for different requirements; there's not a one-size-fits-all option,". He further added, "While specific jobs might focus on a particular language, this research shows that a single language could be a long term dead-end. Aspiring and existing developers must learn coding's common building blocks and ultimately become fluent in multiple languages to have the adaptability and flexibility for a successful career."
After an extensive research, Coding Dojo sniffed out that JavaScript was the most popular coding language among the top 25 Forbes 500 companies, followed by Java, Python, Ruby and Perl. A majority of Android apps is developed on Java; as a result 30% of companies rely on it, making it the most in-demand tech skill to learn for employees and aspiring data professionals.
Get Machine Learning Using Python certification from DexLab Analytics.
Here is the listopedia of top 25 Fortune 500 companies that are looking for these coding skills in their job posting ads (three did not have software developer listings at the time):
Walmart
Java, Python, JavaScript, Perl
Berkshire Hathaway
N/A
Apple
JavaScript, Python, Java, Perl, Ruby, PHP
Exxon Mobil
 C/C++, C#, R, MATLAB
McKesson
Java, JavaScript
UnitedHealth Group
JavaScript, Java, Python
CVS Health
Java, JavaScript, Swift
General Motors
No traditional developer jobs
AT&T
Java, Perl, Python, JavaScript
Ford Motor
C++, C#, JavaScript, Objective-C, Python, Ruby
AmerisourceBergen
C#, JavaScript
Amazon.com
Java, JavaScript, C++, Ruby, Swift
General Electric
JavaScript, Java, Python
Verizon Communications
Java, Python, JavaScript, Swift, PHP
Cardinal Health
Python, Java, JavaScript, Perl
Costco
Python, Java, JavaScript, C
Walgreens Boots Alliance
Java, JavaScript
Kroger
No traditional developer jobs
Chevron
Python, JavaScript
Fannie Mae
Java, Python, Perl, Ruby
J.P. Morgan Chase
Java, JavaScript, Python, Perl, Swift, Ruby
Express Scripts Holding
JavaScript, Java
Home Depot
JavaScript, Python, Java, C#, PHP, Ruby
Boeing
Java, JavaScript, Ruby, Perl, Python
Wells Fargo
Java, Python, JavaScript, C#
Interested in leveling up your coding skills? Machine Learning Certification from DexLab Analytics is your go-to career course. Get the details now.
Interested in a career in Data Analyst?

To learn more about Data Analyst with Advanced excel course – Enrol Now.
To learn more about Data Analyst with R Course – Enrol Now.
To learn more about Big Data Course – Enrol Now.

To learn more about Machine Learning Using Python and Spark – Enrol Now.
To learn more about Data Analyst with SAS Course – Enrol Now.
To learn more about Data Analyst with Apache Spark Course – Enrol Now.
To learn more about Data Analyst with Market Risk Analytics and Modelling Course – Enrol Now.