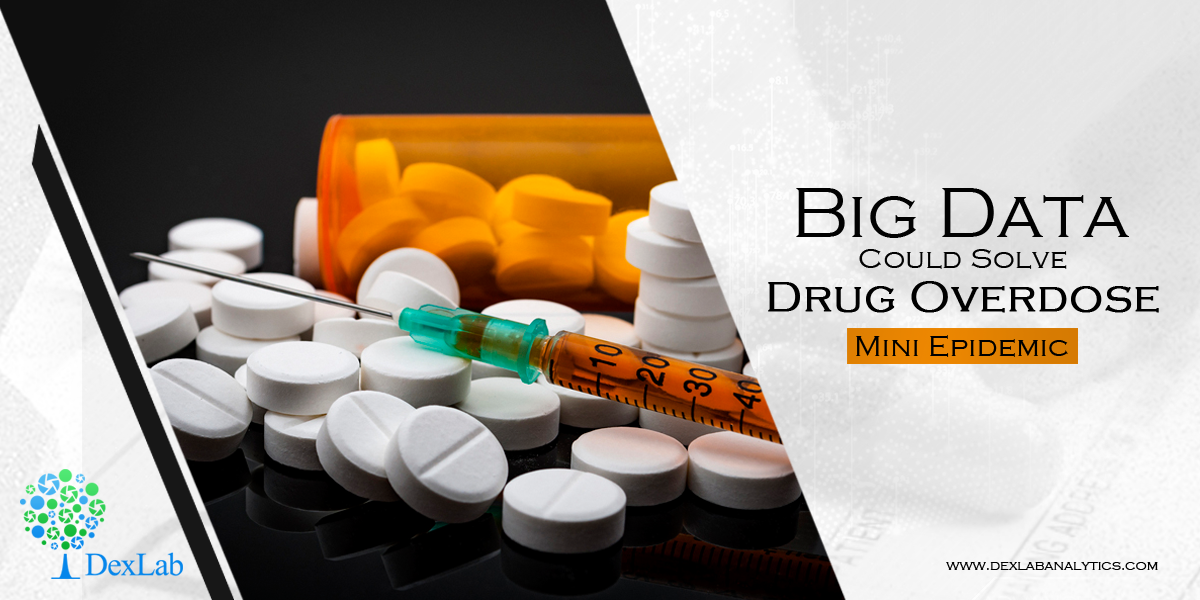 Big data has become an essential part of our everyday living. It's altering the very ways we collect and process data.
Typically, big data in identifying at-risk groups also shows signs of considerable growth; the reasons being easy availability of data and superior computational power.
The issue of overprescribing of opioids is serious, and over 63000 people has died in the United States last year from drug overdose, out of which more than 75% of deaths occurred due to opioids. Topping that, there are over 2million people in the US alone, diagnosed with opioid use disorder.
But of course, thanks to Big Data: it can help physicians take informed decisions about prescribing opioid to patients by understanding their true characteristics, what makes them vulnerable towards chronic opioid-use disorder. A team from the University of Colorado accentuates how this methodology helps hospitals ascertain which patients incline towards chronic opioid therapy after discharge.
For big data training in Gurgaon, choose DexLab Analytics.
Big Data offers helps
The researchers at Denver Health Medical Center developed a prediction model based on their electronic medical records to identify which hospitalized patients ran the risk of progressing towards chronic opioid use after are discharged from the hospital. The electronic data in the record aids the team in identifying the number of variables linked to the advancement to COT (Chronic Opioid Therapy); for example, a patient's history of substance abuse is exposed.
As good news, the model was successful in predicting COT in 79% of patients and no COT in 78% of patients. No wonder, the team claims that their work is a trailblazer for curbing COT risk, and scores better than software like Opioid Risk Tool (ORT), which according to them is not suitable for hospital setting.
Therefore, the prediction model is to be incorporated into electronic health record and activated when a healthcare specialist orders opioid medication. It would help the physician decipher the patient's risk for developing COT and alter ongoing prescribing practices.
"Our goal is to manage pain in hospitalized patients, but also to better utilize effective non-opioid medications for pain control," the researchers stated. "Ultimately, we hope to reduce the morbidity and mortality associated with long-term opioid use."
As parting thoughts, the team thinks it would be relatively cheaper to implement this model and of great support for the doctors are always on the go. What's more, there are no extra requirements on the part of physicians, as data is already available in the system. However, the team needs to test the cutting edge system a number of times in other health care platforms to determine if it works for a diverse range of patient populations.
On that note, we would like to say DexLab Analytics offers SAS certification for predictive modeling. We understand how important the concept of predictive analytics has become, and accordingly we have curated our course itinerary.
The blog has first appeared on – https://dzone.com/articles/using-big-data-to-reduce-drug-overdoses
Interested in a career in Data Analyst?

To learn more about Data Analyst with Advanced excel course – Enrol Now.
To learn more about Data Analyst with R Course – Enrol Now.
To learn more about Big Data Course – Enrol Now.

To learn more about Machine Learning Using Python and Spark – Enrol Now.
To learn more about Data Analyst with SAS Course – Enrol Now.
To learn more about Data Analyst with Apache Spark Course – Enrol Now.
To learn more about Data Analyst with Market Risk Analytics and Modelling Course – Enrol Now.