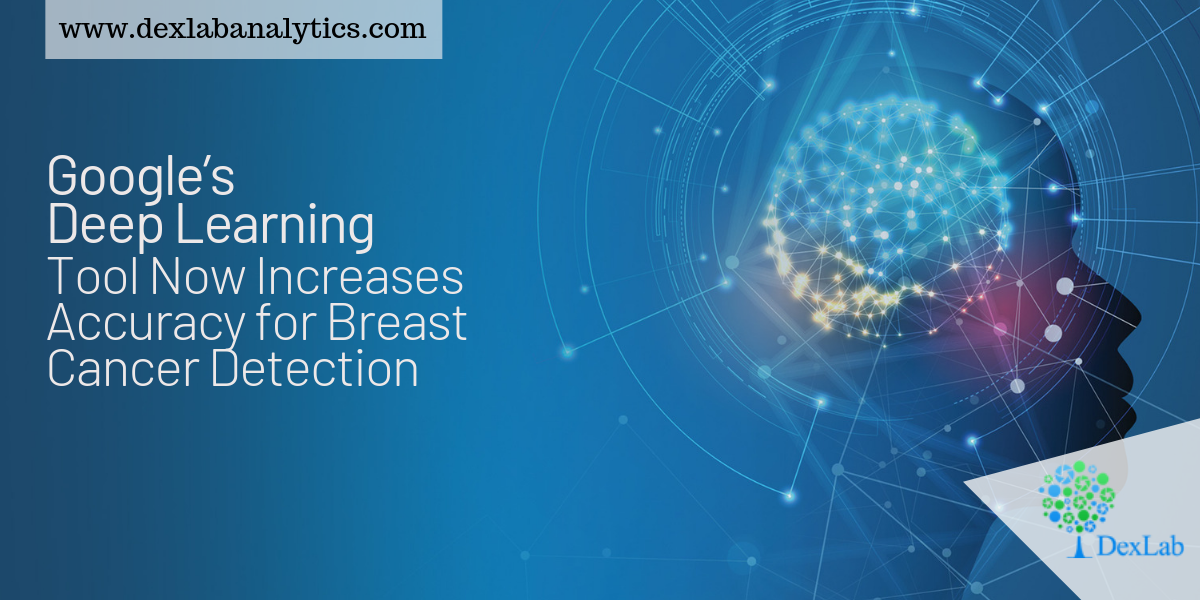 Google has finally developed a deep learning tool that identifies breast cancer that has spread to lymph nodes in pathology slides with 99% accuracy. It would surely reduce the average slide review time.
Detecting how far cancer has spread within a patient's body is a Herculean task. Especially, for breast cancer. In this case, we've to detect how far cancer has spread from a primary region to neighboring lymph nodes. Nodal metastasis is the key here. It influences observations circulating radiation and chemotherapy, resulting in timely and proper detection.
Nevertheless, clinicians have always struggled to determine correctly how far the disease has spread. Fortunately, Google's AI team proved better and productive at determining metastatic breast cancer with a greater accuracy. Two research papers by Google AI team have implemented deep learning methods to address the consequential challenge, and have lent a helping hand to the pathologists for effectively detecting breast cancer.

An algorithm, known as LYNA, Lymph Node Assistant has been developed to identify the regions of tumors that have spread or metastasized. Till now, they were extremely difficult to be detected by normal clinicians. As a well-known fact, out of half a million deaths across the globe owing to breast cancer, more than 90% are as a result of metastasis.
The abovementioned technology from Google first appeared in 2017. According to a recent publication, the AI research team at Google was influenced by "gigapixel-sized pathology slides of lymph nodes from breast cancer patients" for curating such an advanced algorithm. Moreover, the blog post revealed that the system was also able to "accurately pinpoint the location of both cancers and other suspicious regions within each slide." In some cases, the locations are so minute that pathologists may have a hard time trying to detect them accurately.
The best part about LYNA system is regarding the area of concern for clinicians, doctors and how to enhance the entire process of review and ultimate diagnosis. According to Google, the underlying principle of this technology is to help doctors detecting metastatic breast cancer instead of replacing the human workforce. Thanks to the study and of course LYNA, the pathologists are in a better shape to accurately detect the micrometastases.
"Pathologists with LYNA assistance were more accurate than either unassisted pathologists or the LYNA algorithm itself," reveals the blog post. This means the algorithms will become more productive when implemented by people, rather than working on their own.
However, the robust deep learning technology in question here does have some limitations – it works for limited dataset sizes. Further, only a single lymph node was scrutinized for every patient rather than multiple slides that would be common for a comprehensive clinical case. Thus, more detailed work needs to be done on LYNA before being applied to real-life patient situations.
For a detailed report, study "Artificial Intelligence Based Breast Cancer Nodal Metastasis Detection: Insights into the Black Box for Pathologists" as well as "Impact of Deep Learning Assistance on the Histopathologic Review of Lymph Nodes for Metastatic Breast Cancer."
To know more about deep learning and how machine learning fuels the state of the art technology of deep learning, enroll in Deep Learning Training in Gurgaon. DexLab Analytics is one of the well-recognized deep learning training institutes in Delhi that offers in-demand skill training courses. For more information, visit their official site now.
The blog has been sourced from — indianexpress.com/article/technology/science/google-new-deep-learning-algorithm-could-improve-detection-of-breast-cancer-5412456
Interested in a career in Data Analyst?

To learn more about Data Analyst with Advanced excel course – Enrol Now.
To learn more about Data Analyst with R Course – Enrol Now.
To learn more about Big Data Course – Enrol Now.

To learn more about Machine Learning Using Python and Spark – Enrol Now.
To learn more about Data Analyst with SAS Course – Enrol Now.
To learn more about Data Analyst with Apache Spark Course – Enrol Now.
To learn more about Data Analyst with Market Risk Analytics and Modelling Course – Enrol Now.