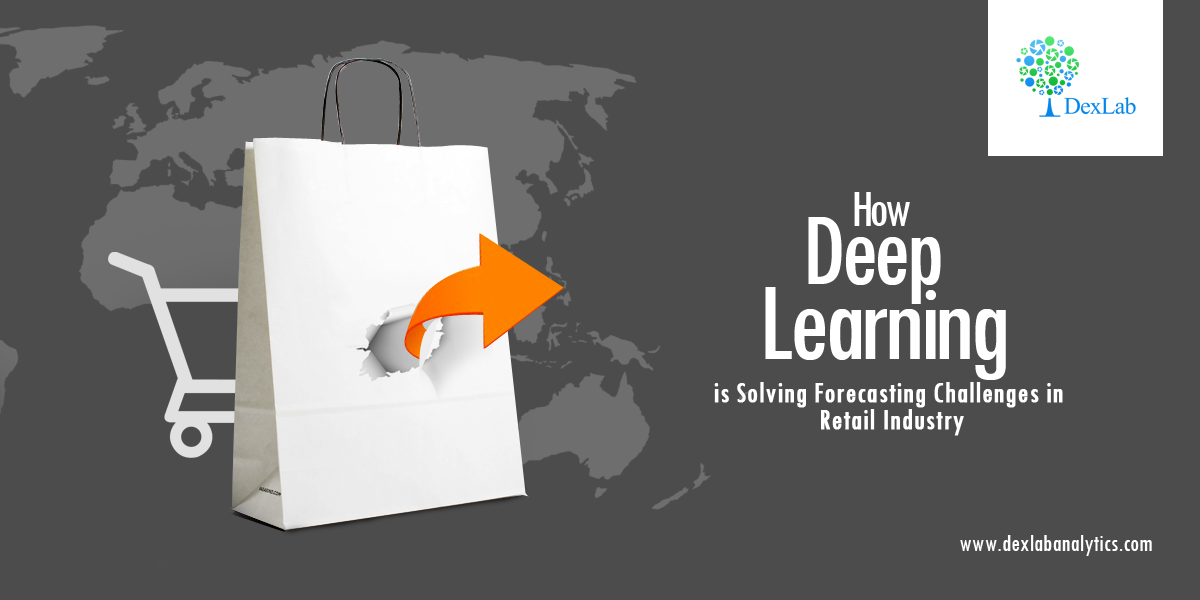 Known to all, the present-day retail industry is obsessed with all-things-data. With Amazon leading the show, many retailers are found implementing a data-driven mindset throughout the organization. Accurate predictions are significant for retailers, and AI is good in churning out value from retail datasets. Better accuracy in forecasts has resulted in widespread positive impacts.

Below, we've chalked down how deep learning, a subset of machine learning addresses retail forecasting issues. It is a prime key to solve most common retail prediction challenges – and here is how:
Deep learning helps in developing advanced, customized forecasting models that are based on unstructured retail data sets. Relying on Graphic Processing Units, it helps process complex tasks – though GPUs area applied only twice during the process; once during training the model and then at the time of inference when the model is applied to new data sets.

Deep learning-inspired solutions help discover complex patterns in data sets. In case of big retailers, the impressive technology of Deep Learning supports multiple SKUs all at the same time, which proves productive on the part of models as they get to learn from the similarities and differences to seek correlations for promotion or competition. For example, winter gloves sell well when puffer jackets are already winning the market, indicating sales. On top of that, deep learning can also ascertain whether an item was not sold or was simply out of stock. It also possesses the ability to determine the larger problem as to why the product was not being sold or marketed.

For a 'cold start', historical data is limited but deep learning has the power to leverage other attributes and boost the forecasting. The technology works by picking similar SKUs and implement that information to bootstrap forecasting process.
Nonetheless, there exists an array of challenges associated with Deep Learning technology. The very development of high-end AI applications is at a nascent stage; it is yet to become a fully functional engineering practice.
A larger chunk of successful AI implementation depends on the expertise and experience of the breed of data scientists involved. Handpicking a qualified data scientist in today's world is the real ordeal. Being fluent in the nuances of deep learning imposes extra challenges. Moreover, apart from being labor intensive in terms of feature engineering and data cleaning, the entire methodology of developing neural network models all manually is difficult and downright challenging. It may even take a substantial amount of time to learn the tricks and scrounge through numerous computational resources and experiments performed by data scientists. All this makes the hunt down for skilled data scientists even more difficult.
Fortunately, DexLab Analytics is here with its top of the line data science courses in Gurgaon. The courses offered by the prominent institute are intensive, well-crafted and entirely industry-relevant. For more information on data analyst course in Delhi NCR, visit our homepage.

The blog has been sourced from ―
www.forbes.com/sites/nvidia/2018/11/21/how-deep-learning-solves-retail-forecasting-challenges/#6cf36740db18

Interested in a career in Data Analyst?

To learn more about Data Analyst with Advanced excel course – Enrol Now.
To learn more about Data Analyst with R Course – Enrol Now.
To learn more about Big Data Course – Enrol Now.

To learn more about Machine Learning Using Python and Spark – Enrol Now.
To learn more about Data Analyst with SAS Course – Enrol Now.
To learn more about Data Analyst with Apache Spark Course – Enrol Now.
To learn more about Data Analyst with Market Risk Analytics and Modelling Course – Enrol Now.