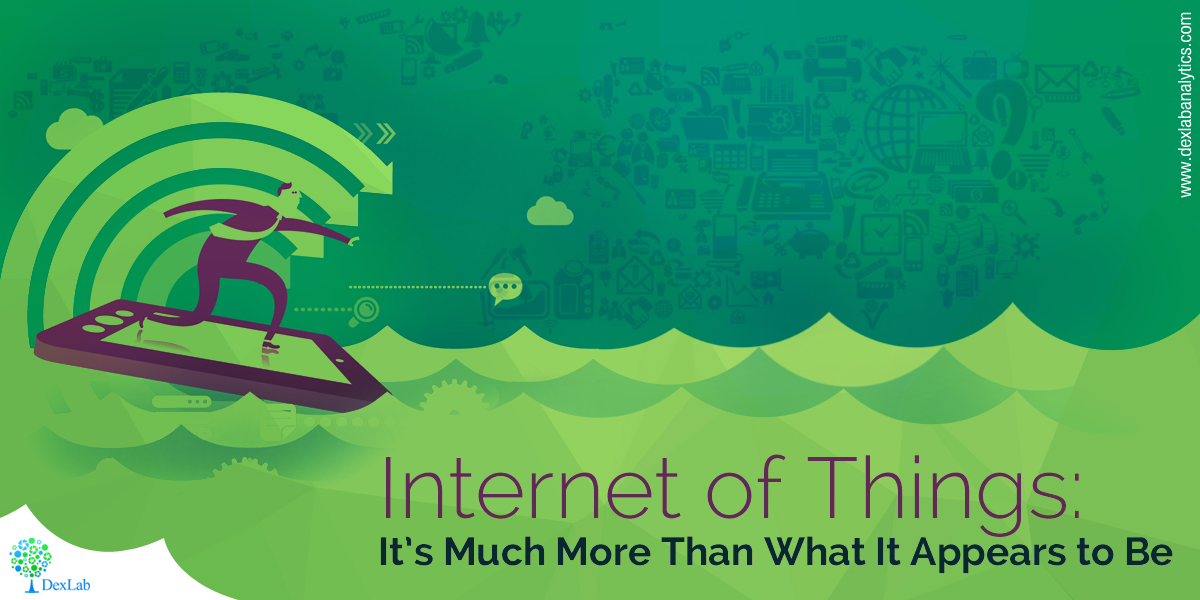 What's all the hype about "the next big thing"? Have you got it yet? Nope? It's not owing to a lack of imagination, but an observation.
Currently, the Internet of Things is the big buzz. It's all about enhancing machine-to-machine communication – being structured on cloud computing and systems of data-gathering sensors, the connection is entirely virtual, mobile and instantaneous.
What is IoT?
In simple terms, the concept of IoT stresses on connecting any device with the Internet – including cellphones, headphones, washing machines, lamps, coffee makers, wearable devices and almost anything that comes in your mind. The IoT is a colossal network of connected Things (inclusive of people) – the famous analyst firm Gartner says by 2020 there will be more than 26 billion connected devices in this world.
What makes it so popular?
As we now know, IoT is a network of things and people, where communication takes place through numerous wireless and wired technologies and it comes with a wide set of advantages. Following are some of the advantages of this new breed of technology:
A better, less-complicated life
Imagine a life, where what you seek will be delivered to you right away, before you even ask for it. It may appear to you that you are dropped right into a scene from your favorite sci-fi movie or novel – the moment your morning alarm starts ringing, your bathtub automatically starts getting filled with hot water; when you leave your home, the lights get turned off automatically and doors lock itself on its own; your car takes you to the office through the less-congested roadway and when you return home, your home lights automatically start to switch on and lastly your air conditioner adjusts the temperature of your room once you are ready to hit the bed. Proper use of IoT makes your life easier and effortlessly simple.
Less accident, better safety
How would it be if for an example you get a heart attack while driving back home and your smartwatch detects it and deploys autopilot mode in your car so that it straightaway takes you directly to the nearest hospital? On the way, your cellphone can dial up the hospital staffs and inform them about the current condition of the patient to help you get the best treatment possible.
Harnessing the power of data
Utilizing the power of data is awesome. Harnessing data to simplify things is the next best thing in today's world. Living a life straight out of sci-fi movies is awesome, but practically, there's still some time left for IoT to become a hardcore reality. Once IoT makes its way into our lives, a set of smart devices powered by sensors will take charge and make almost everything possible – whether it's switching on the AC automatically when a person enters the room or driving a car to a destination without any driver.
IoT helps in taking better decisions in the best interest for businesses
Beyond making your lives easier, IoT possesses a bunch of capabilities – it's a robust technology that collects the most valuable resource, i.e. data. Data helps businesses take better, well-informed decisions. 
Of all the recent technological developments, Internet of Things is considered to be one of the biggest trends to watch out for. In the next 5 years, it's going to change lives forever!
To know more about the Internet of Things and more such digital trends, why don't you settle for a good business analytics course in Delhi! DexLab Analytics is a premier Data Science training institute Gurgaon that offers hands-on experience to students alike.
Interested in a career in Data Analyst?

To learn more about Data Analyst with Advanced excel course – Enrol Now.
To learn more about Data Analyst with R Course – Enrol Now.
To learn more about Big Data Course – Enrol Now.

To learn more about Machine Learning Using Python and Spark – Enrol Now.
To learn more about Data Analyst with SAS Course – Enrol Now.
To learn more about Data Analyst with Apache Spark Course – Enrol Now.
To learn more about Data Analyst with Market Risk Analytics and Modelling Course – Enrol Now.