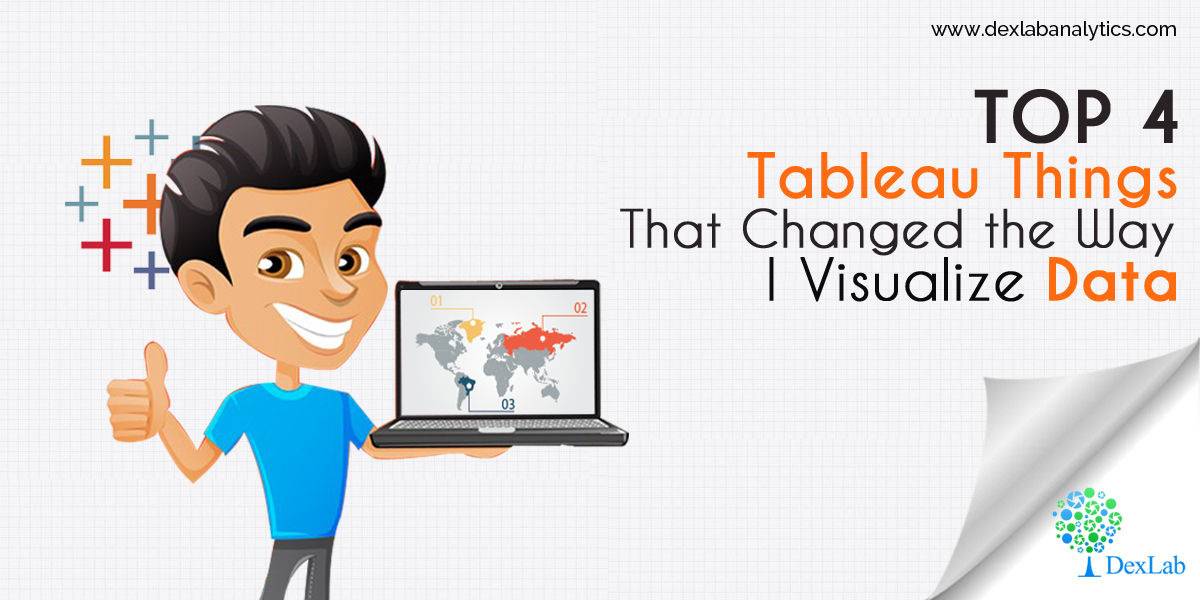 I love Tableau. I found it to be amazing and the best way to visualize data and develop fabulous reports and analysis. 4 years and still counting, I have come across various advanced features and concepts regarding Tableau, which actually enhanced the way I see Tableau as a fantastic tool for data representation. If I could go back in time and preach 4 Tableau concepts, this is what I would have liked to cover:
The fight between Green & Blue
Tableau differentiates. The differentiation is subject to the types of fields used in a view. Green data fields are continuous, while the blue ones are separate. The green ones give out gradient colors, axes and range filters, whereas the blues result in headers, multi-select filters and categorical colors.

The Importance of INDEX function (and its close associates)
Though I have scavenged through every available functions of Tableau in order to become a Tableau maestro in my early days, I knew I hadn't made proper use of the functions INDEX, FIRST and LAST, until now. The main purpose of INDEX is to create a rank, irrespective of any order in which your items need to be displayed on the screen or by any other measure. It is thoroughly flexible and gives you enough room to sort, screen and put up your data in ways not possible otherwise.
While you drag and drop, Tableau writes a query language
Tableau is an intelligent visualization tool. It incorporates all kinds of latest, breakthrough technologies that assists in creating complicated visuals out of languorous data sets with just a simple drag and drop interface. However, on closer look, you will find that Tableau makes use of the data using a form of SQL and then gives shape to your data on screen with an 'interpreter'.
Just incorporate a measure on label, a dimension on rows and write a query on the line of
SELECT Region, Sum(Sales) FROM Orders GROUP BY Region
You can also put another dimension straight on the filter shelf and it will come with a WHERE clause. After some classification, you get an ORDER BY.
Order of operations
Tableau always performs in an orderly manner – things are done here in a certain manner, and this order eventually helps you in creating a perfect view that will fetch you the desired results. Whether you add fields to your view or filter shelf or do custom calculations, all the items are calculated simultaneously.
Things are treated in the following order:
Context filters will generate a temp table in the source
Top N and/or conditional filters make a part of the SELECT command in the query
Standard filters are used as a WHERE clause
Aggregations are ciphered
Table calculations are implemented
Table layout and axes are etched
Anything on the Pages shelf is held accountable
Marks are then sketched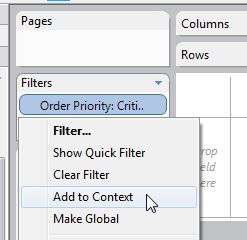 So, this is it! I figured out these functions, which helped me to derive the best out of Tableau. If you too had a Eureka moment, then feel free to let us know.
Of course, you might not be familiar with databases and SQL yet you can still become a Tableau expert without nailing the basics, but if you possess a bit of data analysis knowledge then our Tableau training courses Gurgaon can help accelerate your knowledge further. For more, check Tableau BI training courses by DexLab Analytics Delhi.
This article was sourced from – www.theinformationlab.co.uk/2013/01/28/5-things-i-wish-i-knew-about-tableau-when-i-started
Interested in a career in Data Analyst?

To learn more about Data Analyst with Advanced excel course – Enrol Now.
To learn more about Data Analyst with R Course – Enrol Now.
To learn more about Big Data Course – Enrol Now.

To learn more about Machine Learning Using Python and Spark – Enrol Now.
To learn more about Data Analyst with SAS Course – Enrol Now.
To learn more about Data Analyst with Apache Spark Course – Enrol Now.
To learn more about Data Analyst with Market Risk Analytics and Modelling Course – Enrol Now.