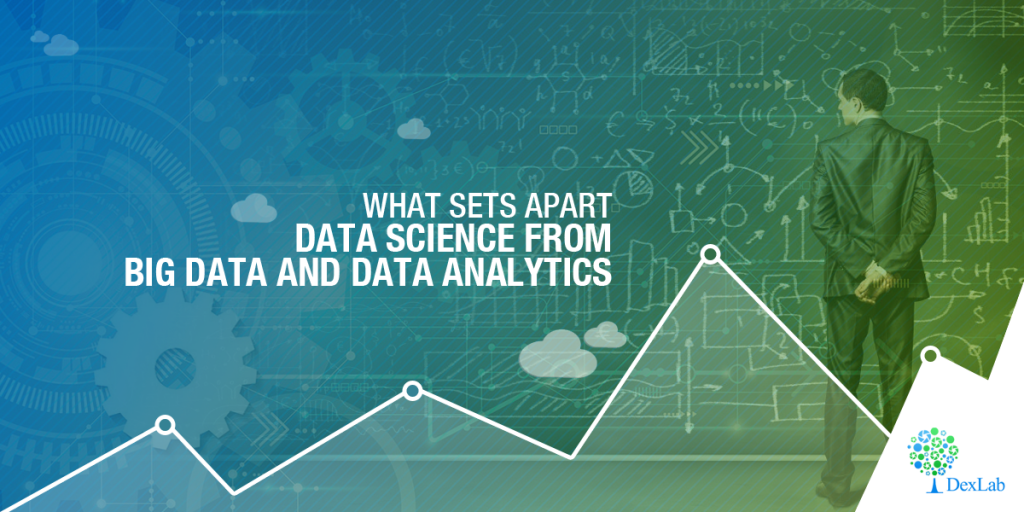 Today is a time when omnipresent has a whole new definition. We no longer think about the almighty, omnipotent and omnipresent God when we speak about being everywhere. Nowadays we mostly mean data when we hear the term "present everywhere". The amount of digital data that populates the earth today is growing at a tremendous rate, doubling over every two years and transforming the way we live.
As per IBM, an astounding amount of 2.5 Billion gigabytes of data is generated every day since the year 2012. Another revelation made by an article published in the Forbes magazine stated that data is growing faster than ever before today, and by the year 2020 almost 1.7 megabytes of new information will be created every second by every human being on this earth. And that is why it is imperative to know the fundamental basics of this field as clearly this is where our future lies.
In this article, we will know the main differentiating factors between data science, Big Data analysis and data analytics. We will discuss in detail about the points such as what they are, where they are used, and the skills one needs to be a professional in these fields, and finally the prospect of salary in each case.

First off we start with the understanding of what these subjects are:
What is data science?
Data science involves dealing with unstructured and structured data. It is a field that consists of everything that relates to cleansing of data, preparation and analysis. It can be defined as the combination of mathematics, analytics, statistics, programming, capture of data and problem solving. And all of that in the most ingenious ways with an amazing ability to look at things from a unique perspective. They professionals involved with this field should be proficient in data preparation, cleansing, and alignment of data.
To put it simply, this is the umbrella of techniques which is used to extract insights and information from the data.
What do we mean by Big Data?
As the name suggests, Big Data is nothing but a mammoth amount of data. This is so huge that it cannot be processed effectively with the existing traditional applications. The processing of Big Data starts with working with raw data that is not very well aggregated and is almost impossible to store in the memory of only one single computer.
It is now a popular buzzword filling up the job portals with vacancies. And is used to denote basically a large number of data, both structured and unstructured. It inundates a business on a daily basis. It is a prime source of information that can be used to take better decisions and proper strategic business moves.
As per Gartner, Big Data can be defined as high velocity, high volume and high variety information assets which demand cost efficient, innovative forms of information processing that enable improved insight, better decision making, and a procedural automation.
Thus a Big Data certification, can help you bag the best paying jobs in the market.
Understanding data analytics:
Data Analytics is the science of assessing raw data with the purpose of drawing actionable insights from the same.
It basically involves application of algorithms in a mechanical and systematic process to gather information. For instance, it may involve a task like running through a large number of data sets to look for comprehensible correlations between one another.
The main focus for data analytics is concentrated on interference, which is the procedure for deriving conclusions which are mainly based on what the researchers already are aware of.
Where can I apply my data science skills?
On internet searching: search engines use data science algorithms

For digital ads: data science algorithms is an important aspect for the whole digital marketing spectrum.

Recommender systems: finding relevant products from a list of billions available can be found easily. Several companies and ecommerce retailers use data to implement this system.
Big Data applicability:
The following sectors use Big Data application:
Data analysis scope and application:
Healthcare sector for efficient service and reduction of cost pressure

Travel sector for optimizing buying experience

Gaming industry for deriving insights about likes and dislikes of gamers

For management of energy, with smart grid management, energy optimization distribution and also used by utility companies.
Here is an infographic that further describes all there is to know about these trending, job-hungry sectors that are growing at a tremendous rate:
Now that you know what the path to career success, looks like stop waiting and get a R Analytics Certification today.
Interested in a career in Data Analyst?

To learn more about Data Analyst with Advanced excel course – Enrol Now.
To learn more about Data Analyst with R Course – Enrol Now.
To learn more about Big Data Course – Enrol Now.

To learn more about Machine Learning Using Python and Spark – Enrol Now.
To learn more about Data Analyst with SAS Course – Enrol Now.
To learn more about Data Analyst with Apache Spark Course – Enrol Now.
To learn more about Data Analyst with Market Risk Analytics and Modelling Course – Enrol Now.