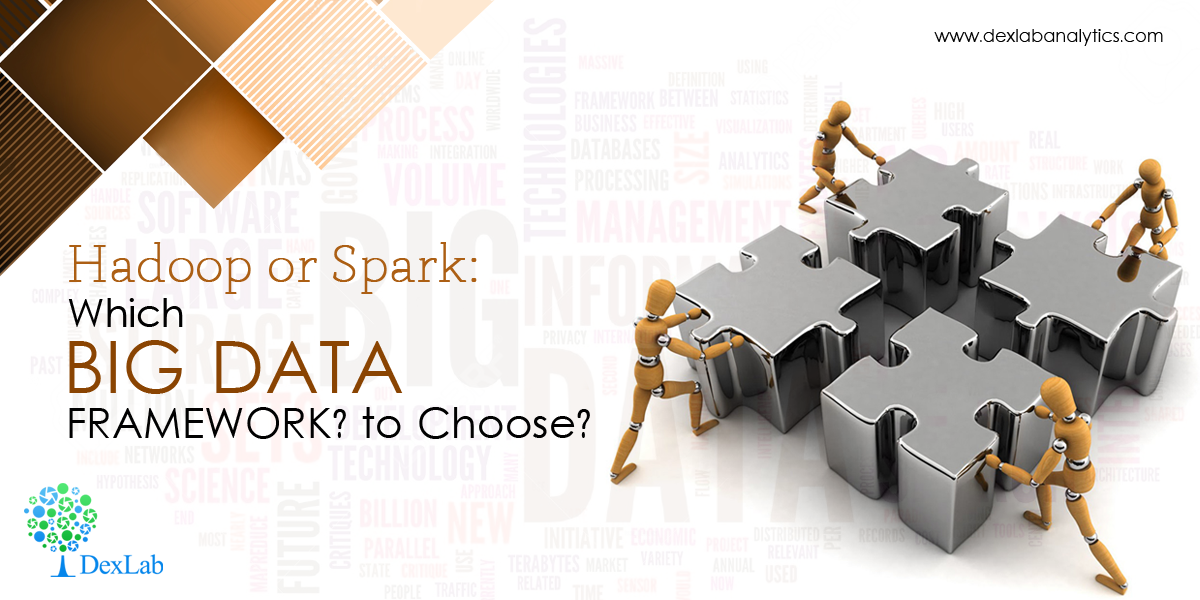 Feeling confused?
Of late, Spark has overtaken Hadoop for being the most active open source big data project. Though they have their differences, they both have many common uses.
To begin, they both are incredible big data frameworks. For some years, Hadoop has been leading the open source big data framework clusters but recently highly advanced Spark tends to have captured the market. The latter has become increasingly popular and for all the right reasons. But that is not to say, Hadoop is losing its significance entirely.
They don't perform exactly the similar tasks. Neither are they mutually exclusive. Though it's been heard that Spark can work 100X faster than Hadoop in some scenarios, it doesn't come with its own distributed storage system, which is quite fundamental to big data projects. Distributed storage offers elaborate multi-petabyte dataset storage solution across almost infinite number of computer hard drives. As compared to expensive machinery customization which holds everything in one device, distributed system is cheap as well as scalable, which means as many devices can be added if the network of data set ever grows.
Moreover, Spark doesn't have its own file system; it cannot organize files in a distributed way without help from third party. This is the reason why several companies think of installing Spark after Hadoop, so that superior analytical applications of Spark can employ data stored using HDFS.
So, what makes Spark win over Hadoop? It's the SPEED. Spark is a champion of handling a large chunk of its operations 'in memory'- this reduces a lot of time and effort, indeed. Thanks to MapReduce!

MapReduce writes of the data right to its physical storage medium after each activity. The main purpose of this was to ensure a fully recovery if something goes wrong – nevertheless, Spark organizes data in Resilient Distributed Datasets, where data can be easily recovered following failure or any kind of mishap.
The main driving factor behind growth of Spark lies in its adept functionality for tackling advanced data processing tasks, including machine learning and real-time stream processing. Real-time processing stands for feeding data into analytical applications the moment it's seized, and insights are right away directed back to the users through a dashboard to inspire action. This kind of processing is nowadays very much used in big data, thus making Spark enjoy an upper hand against its Hadoop counterpart.
The technology of machine learning is right at the kernel of digital revolution – artificial intelligence and creating far-fetched algorithms is an area of analytics Spark excels at. Its speed and the sound capability to tackle streaming data are the reasons behind. Spark has its own machine learning libraries, known as MLib, while Hadoop needs to collaborate with third-party machine learning library, for example Apache Mahout.
As closing thoughts, though it appears that the two big data frameworks are stiff competitors of each other, yet this is really not the case in the reality. The corporate uses offers both the application services, letting the buyer decide which one they prefer to pick, subject to their functionality and need.
The good news is that DexLab offers both Hadoop and Apache Spark Certification Training. What's more, a recent admission drive is ongoing #BigDataIngestion. Enroll now and enjoy 10% discount on big data certification training courses.
The blog originally was published on – www.forbes.com/sites/bernardmarr/2015/06/22/spark-or-hadoop-which-is-the-best-big-data-framework/2/#714061d161d6
Interested in a career in Data Analyst?

To learn more about Data Analyst with Advanced excel course – Enrol Now.
To learn more about Data Analyst with R Course – Enrol Now.
To learn more about Big Data Course – Enrol Now.

To learn more about Machine Learning Using Python and Spark – Enrol Now.
To learn more about Data Analyst with SAS Course – Enrol Now.
To learn more about Data Analyst with Apache Spark Course – Enrol Now.
To learn more about Data Analyst with Market Risk Analytics and Modelling Course – Enrol Now.