According to a recently published report from McKinsey – "Alphabet invested roughly $30 billion in developing AI technologies, and Baidu, which is the Chinese equivalent of Alphabet, invested $20 billion in AI last year."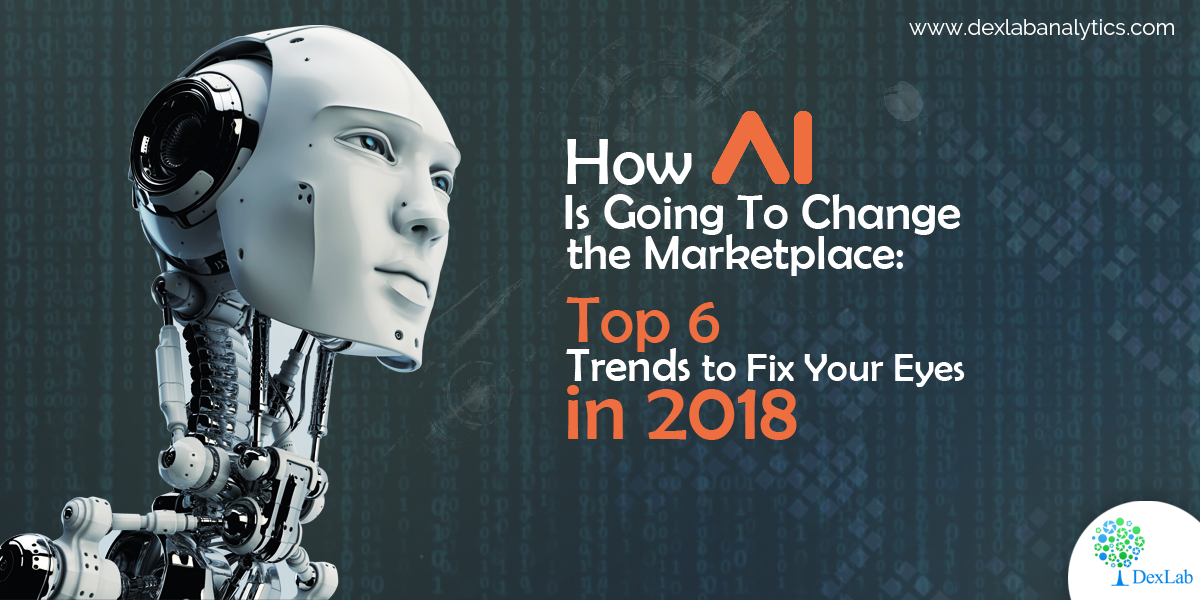 Not only companies, but reports suggest Chinese government is pursuing AI technology relentlessly in an attempt to drive the AI innovation, singlehandedly.
Taking into account that some of the biggest global bigwigs are focused on advancing in AI tech, it's certain that 2018 is going to witness some of the most significant advancements in this innovative tech space.
Here goes the TOP 6 AI TRENDS to watch out this year:
Logistics is going to be more efficient with AI
AI is not a lost game, entirely. Along with creating a lot of new-age jobs, it will also trigger some phenomenal job loss – for example, Goldman Sachs predicts it will lose 25000 truckers jobs each month – reason – self-driving vehicles.
On the brighter side, it is now possible to run a 20,000- sq ft distribution center with no help, except for a skeleton crew. Companies such as Kiva Systems, aka Amazon Robotics using a combination of advanced robotics and artificial intelligence offer giant retailers with incredible logistics solutions. The technology is rapid and is expected to play a significant role in ensuring better, faster and less expensive deliveries in the future.
Launching self-driving cars
Self–driving cars are no more a distant dream – TESLA, a recognized global auto brand launched its first self-driven car, followed by traditional auto manufacturers like Audi, who have slated their release of self-driven cars in 2018. The Audi A8 will feature self-driving technology, ensuring safe shuttling of humans without any driver input. Later this year, Cadillac and Volvo will also release their own versions of self-driving cars.
DARPA is going to intensify its AI-based operations
The Defense Advanced Research Project Agency (DARPA) has explored through a number of technological breakthroughs, influencing our lives inside out. The phenomenal organization, a significant part of American military is the kernel of new developing technologies – they have been instrumental in evolving the internet and GPS navigation, hence innovation runs through the very core of the setup.
AI will boost job creation, for knowledge workers
Instead of eating away jobs, AI is the technology that actually aids employee generation. It eventually puts people into work, who possess the desired know-how. Cutting edge tools like Jog, Chorus and Gong help in recording calls done by customer care executives and sales professionals.
"This technology can coach customer-facing service workers to speak more effectively, thanks to machine-learning algorithms. Expect AI to increasingly support white-collar workers in 2018 and beyond," says Carrie Christensen, Operations VP of Mint Solar.

AI will generate content
Yes, you heard it right. Global icons like CBS, USA Today and Hearst have already started using AI technology to churn out good quality content. For an instance, Wibbitz provides a Software-as-a-service (SaaS) platform that assists publishers in turning written content into video content via AI video production.
Previously, publishers had to labor for hours, if not days creating suitable content for websites and other social media platforms. Tools like Wibbitz are aiding publishers in creating irresistible videos in minutes.
Demand for data scientists will exceed demand for engineers
According to IBM, demand for data scientists will reach 2.7 million by 2020, exceeding demand for engineers. As data is increasing in capacity, the need for companies to appoint specialists to tackle complex data issues is burgeoning too – inevitably increasing the need for talented data scientists.
 Want to be a data scientist? Start Data Science Courses in Delhi NCR by DexLab Analytics. Their Data Science Certification courses are knowledge-induced and practical in approach.
Interested in a career in Data Analyst?

To learn more about Machine Learning Using Python and Spark – click here.

To learn more about Data Analyst with Advanced excel course – click here.
To learn more about Data Analyst with SAS Course – click here.
To learn more about Data Analyst with R Course – click here.
To learn more about Big Data Course – click here.