Big data is the new CRAZE. Reports suggest that investments in big data have surpassed $57 billion in 2017, and are expected to rise by 10% for the next three years.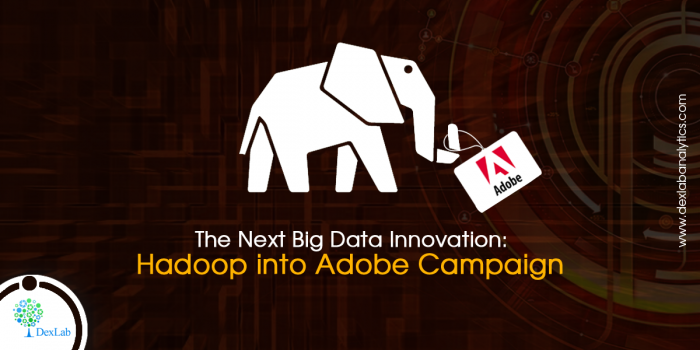 Customers are happy – those who have applied advanced capabilities to predictive analytics, machine learning, customer analytics, customer profiles, inventory management and tracking, and more – as big data implementation across many verticals has resulted in measurable positive results.
Talking of which, marketers are found increasingly inclining towards machine learning frameworks – but it requires huge chunks of updated data about customers, typically stored in an effective big data platform that leads towards newer possibilities. Fortunately, which was once a distant dream has now become a reality in the facet of Adobe Campaign – it not only connects to external data but also lets these connectors span to big data.
This January, Adobe announced the incorporation of a Hadoop connector to Adobe Campaign, allowing marketers gain access to all new range of data to filter into email marketing campaigns.  
Adobe Campaign is a robust series of digital marketing solutions present within the Adobe Experience Cloud that aids Adobe customers in formulating and delivering personalized marketing campaigns across multiple offline and online mediums.

How Hadoop Connector became such an amazing feature for Adobe Campaign
Just as Adobe Campaign opens up to striking new possibilities for marketers, Hadoop ushers us to new possibilities for data storage. Now that the two have merged into one, marketers can now enjoy direct access to big data. And it gives, unprecedented power to them, trust me!
Previously, marketers were in need to develop and maintain costly integrations to transfer data from Hadoop structures to marketing tools. But, now FDA in Adobe Campaign has made it easy for them to directly leverage their organization's data without getting into any sort of complex data migrations and transformations, while making use of that data within campaigns, seamlessly.

Here are few ways in which Hadoop and Adobe Campaign can bring in the best experiences to the customers:
Banks using Hadoop can immediately identify frauds, and send immediate notifications with Adobe Campaign to alert customers.

Vast pool of information stored in Hadoop clusters can be leveraged by retailers to structure fitting, customized cross-channel campaigns.

Marketers would gain easy access to a treasure trove of big data, thus opening newer ways for better data experiences.
Innovation to Personalize
The latest Hadoop connector merged into Adobe Campaign "gives marketers easy access to their big data to use how they see fit, opening new ways to personalize and thus drive better experiences," wrote Matthew Rawding, Product Marketing Manager at Adobe Campaign, on their company blog section. Rightfully so, the Hadoop connector widens Adobe customer's access to big data. In the past, Adobe Campaign has constructed native integrations with database merchants Teradata, Oracle, SQL Server, and Netezza but as a matter of fact, marketers could only leverage Hadoop data if they had formed and maintained their own integration, which indeed was a costly affair.
It's clear that the combo of Hadoop and Adobe Campaign is strikingly positive for companies who want to utilize big data. So, give the connector a try today, and start improving experiences for your valuable customers. Because they deserve it!
For excellent Big Data Hadoop training in Delhi NCR, drop by DexLab Analytics. Being a noted Big Data Hadoop institute in Gurgaon, their training services are stellar.
Interested in a career in Data Analyst?

To learn more about Machine Learning Using Python and Spark – click here.

To learn more about Data Analyst with Advanced excel course – click here.
To learn more about Data Analyst with SAS Course – click here.
To learn more about Data Analyst with R Course – click here.
To learn more about Big Data Course – click here.