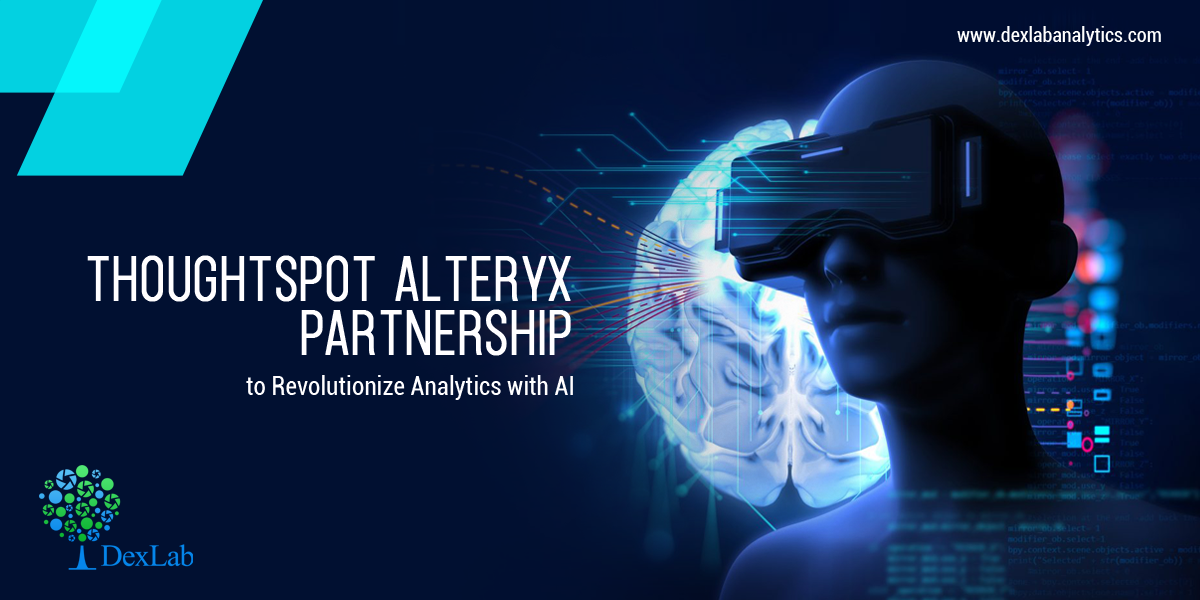 ThoughtSpot has recently partnered with Alteryx to boost analytics endeavors with AI.
The aim is to transform businesses through systematic data analytics simplifying the entire process for business users. Right from data preparation to insight generation, Alteryx in association with ThoughtSpot is expected to perform advanced analytics, evaluate meaningful insights and answer relevant questions – all using an all-natural, simple language search.
Constructing Business-driven Data Analytics Pipeline
Data is everywhere. Small and big business houses leverage the power of data science and invest large amounts in technologies that transform industries. Nevertheless, there are still many organizations that fail to put this data into the right hands. Data matters the most for business people. They are the ones who drive the change and data needs to reach them.
The latest collaboration between Alteryx and ThoughtSpot has re-conceptualized the whole idea of data pipeline by empowering every single business person, irrespective of their technical superiority, to connect, evaluate and model intricate data using Alteryx and then immediately start discovering insights using search and AI-driven analytical frameworks by ThoughtSpot. The amalgamation comes with a set of new tools that let Alteryx users add original ThoughtSpot Bulk Loader connections and ThoughtSpot TQL statements directly into a workflow of Alteryx.

This system automatically offers several advantages to the businesses, including:
Connect, modify and model intricate data in a fraction of a second – The users can now collect data from their organization with the help of a high throughput fast parallel loader, transform it and then model it for further analysis more efficiently than before.
Faster results – Business users enjoy the liberty to work with data that matters the most, apply sophisticated analytical tools and unravel crucial automated insights while releasing valuable analytical resources that can be employed in other high-value and strategic projects.
Advance with AI – The users get to develop machine learning and AI models in an absolutely code-friendly and code-less environment. Later, they can use search to absorb and share insights derived from these models.
The Leaders' Opinions
On the above context, Toni Adams, Vice President, Global Alliances & Partnerships at ThoughtSpot shared that today's enterprises cannot afford to wait for days in the hope of putting insights in the hands of the business users. The business users need to be empowered with every mean to churn out insights directly from the most complex data. Fortunately, the recent partnership is likely to change the complete dynamo of data pipeline by transforming every employee of an organization into a data-driven powerhouse capable enough to derive insights instantly. This will eventually make operations simpler and productive.
Furthermore, Steve Walden, Senior Vice President of Business Development, Alteryx emphasized that they believe in strengthening business capabilities by empowering every data worker of the organization. These workers, in turn, will transmute data into actionable insights faster and tweak business outcomes. The partnership with ThoughtSpot is expected to enhance ease-of-use throughout the entire analytics pipeline and unleash unprecedented value for every joint customer.

About Alteryx
Transforming businesses through data analytics, Alteryx is a reputable end-to-end analytics platform that entitles data analysts to connect, deliver powerful insights and witness the thrill of deriving answers pretty faster. For more information, click www.alteryx.com.
A premier data analytics training institute, DexLab Analytics offers comprehensive Alteryx certification training in Delhi. Through hands-on training and real-life examples, the expert consultants help you master the intricacies of Alteryx for complex data analytics. Enroll Now.
The blog has been sourced from: www.marketwatch.com/press-release/thoughtspot-partners-with-alteryx-to-advance-analyticswith-ai-2019-03-14
Interested in a career in Data Analyst?

To learn more about Data Analyst with Advanced excel course – Enrol Now.
To learn more about Data Analyst with R Course – Enrol Now.
To learn more about Big Data Course – Enrol Now.

To learn more about Machine Learning Using Python and Spark – Enrol Now.
To learn more about Data Analyst with SAS Course – Enrol Now.
To learn more about Data Analyst with Apache Spark Course – Enrol Now.
To learn more about Data Analyst with Market Risk Analytics and Modelling Course – Enrol Now.