The Risks are indispensable. In any business.
But what if you can nullify the risks?
Or find a suitable solution to limit them?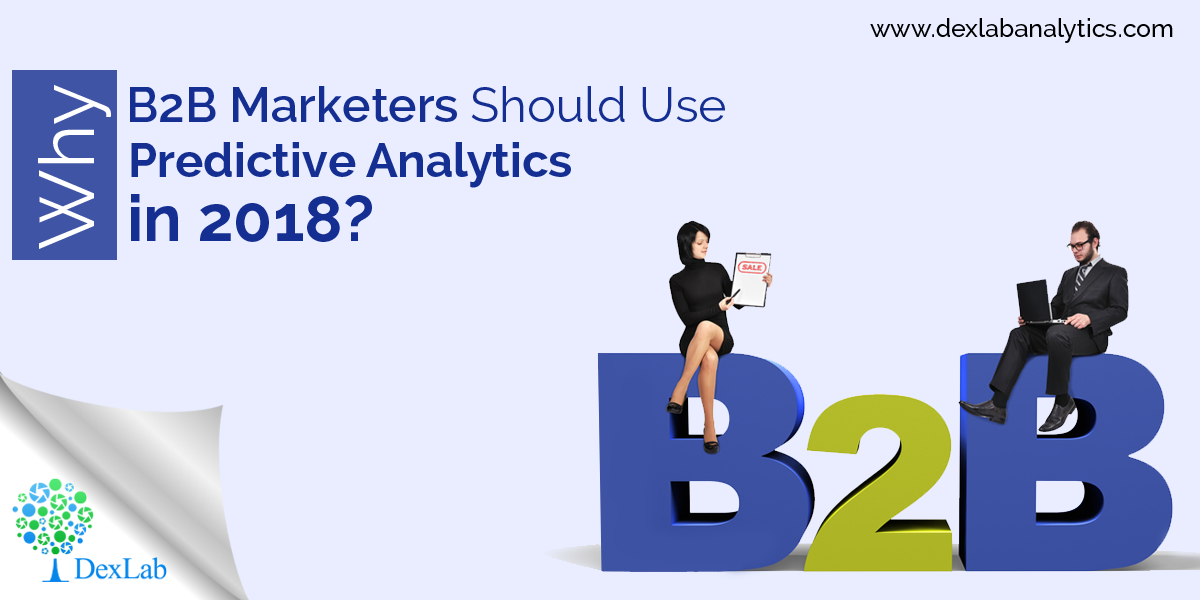 That's probably where Predictive Analytics ring the bell. Right from logistics and inventory to marketing initiatives and sales to applications in hiring and HR, predictive analytics is the ultimate tool that impacts business decisions across every domain of a B2B enterprise.
Predictive analytics refers to the prudent use of data, coupled with machine learning techniques and statistical algorithms to determine the probability of future outcomes based on historical data. The aim is to go traverse beyond the known to provide the best assessment of what can happen in the future.
Here's why predictive analytics should be the Holy Grail for every B2B marketer in 2018:
Audience segmentation
To develop a formidable base of the most profitable customers, predictive analytics model is the key. Each business includes a particular set of customer behavior models and algorithms formulated for each unique circumstance and persona in question. The sales team then looks into the best accounts for picking different lead nurturing methods or for respective meshed demand generation programs that hits the right notes of future success.
In simple terms, predictive analytics ensures that the ideal resources of sales should be used at the right time to entail the right opportunities, while narrowing down the process gaps. It possesses the ability to break down data and transmit important signals in time. It also feeds in disparate data and turns each record more concise and well-documented.

Better sales and easy forecasting
Predictive analytics has the power to curb lost sales, and unravel actionable insights. The stats presented by CSO Insights say – approximately 54% of all forecasted deals by sellers don't make it to the finish line.
It's obvious; deals get stuck in between processes and overzealous sales teams may lose their grip on the potentials of these leads that once appealed to them. Powerful predictive algorithms, using internal and external data sources are likely to identify correlations and forecast results to help marketers understand which prospect to consider and which to ignore. They also wisely leverage algorithms that influences customer's buying pattern. All this eventually helps Sales teams recognize the people with whom they should speak next, the kind of conversation they should make with the lead, the channel of communication and when is the opportune time to attempt cross and upsell.
In a nutshell, it is predictive modeling using SAS that boosts sales performances and predicts forecasts, while enjoying a certain edge over lead scoring and prioritization.
Planning successful marketing campaigns
With predictive analytics, marketers can now design more striking yet successful campaigns. The mere knowledge how your consumer is going to react or behave can help nab a thousand things at the same time! Predictive models are framed on past behavior and modeling patterns of customers, hence they have an in-depth knowledge of how a customer may respond to a certain campaign, whether he will make any purchase or not, and if yes, then what would be the right channel or time.
Regardless of how you strategize your tools of technology, the first thing you need is good data. Quality data churns out quality result, but if data provided is inaccurate, the results can be extremely detrimental. So, give your prime focus on pulling in the right data, and the rest will automatically fall into place.
This year, try putting on a sharp layer of predictive marketing analytics over your business – it will not only drive your marketing goals but will also ensure your business gets a complete coverage!
For best Predictive modelling of market risk using SAS, join DexLab Analytics Delhi today!
Interested in a career in Data Analyst?

To learn more about Machine Learning Using Python and Spark – click here.

To learn more about Data Analyst with Advanced excel course – click here.
To learn more about Data Analyst with SAS Course – click here.
To learn more about Data Analyst with R Course – click here.
To learn more about Big Data Course – click here.